Peter Gabriel ha partecipato il 26 giugno 2020 a un altro evento live stream di "Artists United for Amazonia, Protecting the Protectors", con altri grandi nomi dello spettacolo e non solo. Ecco le sue parole.
[siteorigin_widget class="GTranslateWidget"][/siteorigin_widget]
The Artists United for Amazonia: Protecting the Protectors, evento globale live stream, si è tenutovenerdì 26 giugno  e ha presentato, come al solito, un mix di performance musicali da casa, interviste, saggezza indigena e richiami all'azione.
Peter ha partecipato insieme a numerosi altri artisti come Barbara Streisand, Sting, Jeff Bridges, Herbie Hancock, Morgan Freeman e Jane Fonda. Si sono uniti ai leader indigeni, agli scienziati e a un'ampia coalizione di ONG nell'evento live stream prodotto da Artists for Amazonia.
Ecco l'intervento di Peter: 
Supporta the Amazon Emergency Fund – CLICCA QUI.
PARTICIPAZIONE IN THE LIVESTREAM:
ARTISTI
BARBRA STREISAND
STING & TRUDIE STYLER
MORGAN FREEMAN
DAVE MATTHEWS
JANE FONDA
RICKY MARTIN
JEFF BRIDGES
SCOTT BAKULA
BUTTERSCOTCH
OONA CHAPLIN
NAHKO
PETER COYOTE
CARA DELEVINGNE
PETER GABRIEL
HERBIE HANCOCK
IVAN LINS
CARLOS SANTANA
ALFRE WOODARD
AMBER VALLETTA
ANDERSON VAREJAO
ALICE BRAGA
ED BEGLEY, JR.
RACHELLE CARSON-BEGLEY
KOREN BROTHERS
SEBASTIAO SALGADO
GRETA THUNBERG
MICHELLE BARTON
TOM BERGERON
HART BOCHNER
CINDY BLACKMAN
MATTI CASPI
SUYAN CASPI
ROCKY DAWUNI
CARY ELWES
ISLA FISHER
FRANCES FISHER
MARIA GADU
Q´ORIANKA KILCHER
DHARMA LEMON
WENDIE MALICK
MATTHEW MODINE
WAGNER MOURA
AMY SMART
LUCIANA SOUZA
CHLOE SMITH
MICKEY SUMNER
SCOTTIE THOMPSON
LYNNE TWIST
KALI UCHIS
BARBARA WILLIAMS
XIUHTEZCATL
…E MOLTO ALTRI!
INDIGENIDELL'AMAZZONIA
SONIA BONE GUAJAJARA
GREGORIO DIAZ MIRABAL
ANGELA KAXUYANA (AKA AMANAKWA KAHYANA)
LIZARDO CAUPER
BENKI PIYAKO
NINA GUALINGA
JAKON RATE
GBENGA AKINNAGBE
HELENA GUALINGA
DJUENA TIKUNA
XIYE BASTIDA
ERICK TERENA
MAPU HUNI KUIN & INKA YUBE HUNI KUI
WALELA SURUI
NEIMAR KIGA
SCIENZIATI ED ESPERTI
JANE GOODALL
CARLOS NOBRE
THOMAS LOVEJOY
LEILA SALAZAR-LOPEZ
WADE DAVIS
JEAN MICHEL COUSTEAU
ATOSSA SOLTANI
CELINE COUSTEAU
CHRISTINA MILLER
ARTHUR NETO, SINDACO DI MANAUS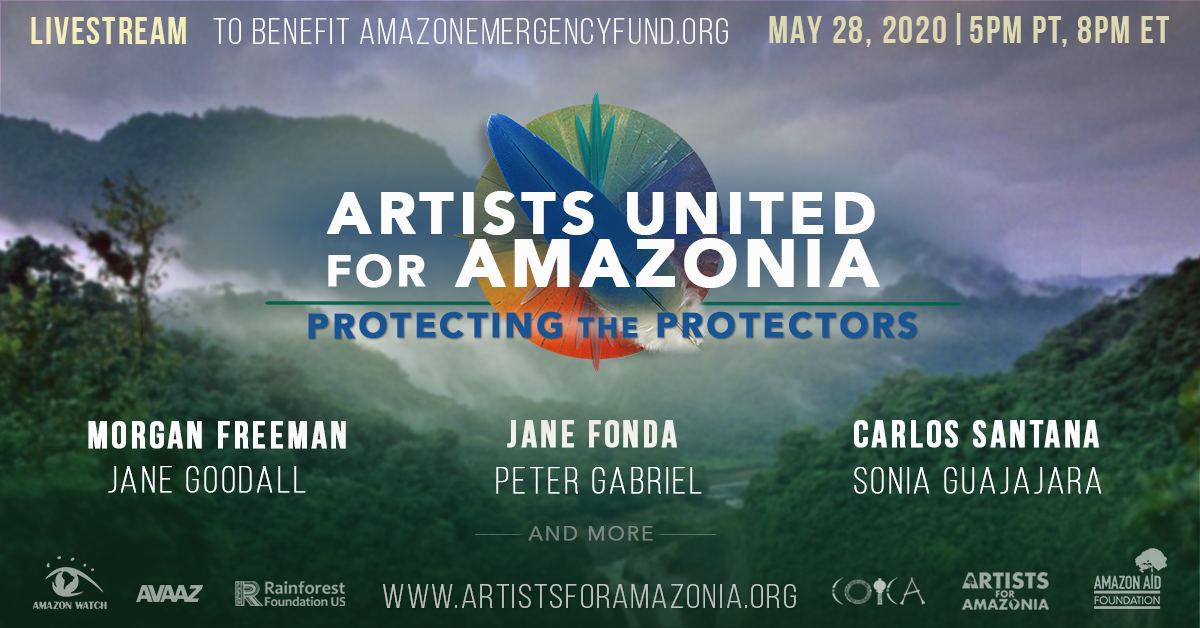 Il 28 maggio 2020 Peter Gabriel ha partecipato al precedente evento live stream "Artists United for Amazonia, Protecting the Protectors", con altri grandi nomi dello spettacolo e non solo.
Tra questi, Morgan Freeman, Carlos Santana, @SantanaCarlos, Jane Fonda e, appunto, Peter Gabriel hanno partecipano al livestream benefit  per la regione Amazzonica, che in Brasile è stata particolarmente colpita dal COVID.
Guarda il video dell'intervento di Peter Gabriel:
https://youtu.be/N6tWbDM0jAY?t=8010
«Tutti noi abbiamo un ruolo da svolgere nel prevenire la diffusione di #COVID19 in Amazzonia!
Artists United for Amazonia: Protecting the Protectors, un evento speciale livestream per il Amazon Emergency Fund a sostegno della popolazione indigena amazzonica sotto la minaccia estrema di COVID-19
Il nostro potente livestream offre spettacoli musicali, personaggi dello spettacolo, leader indigeni, scienziati, sostenitori della conservazione e molto altro ancora!»
ARTISTI
JANE FONDA
MORGAN FREEMAN
CARLOS SANTANA
JEFF BRIDGES
PETER GABRIEL
HERBIE HANCOCK
CARA DELEVINGNE
NAHKO
XIUHTEZCATL
KALI UCHIS
CARY ELWES
Q'ORIANKA KILCHER
ED BEGLEY, JR.
RACHELLE CARSON BEGLEY
IVAN LINS
LUCIANA SOUZA
FRANCES FISHER
AMBER VALLETTA
MATTHEW MODINE
TOM BERGERON
WENDIE MALICK
ROCKY DAWUNI
BUTTERSCOTCH CLINTON
SCOTT BAKULA
ALFRE WOODARD
CHLOE SMITH (RISING APPALACHIA)
SCOTTIE THOMPSON
BARBARA WILLIAMS
HART BOCHNER
SUYAN CASPI
WAGNER MOURA
GBENGA AKINNAGBE
MATTI CASPI
MICHELLE BARTON
…AND MANY MORE!
LEADER INDIGENI
SONIA GUAJAJARA
ANGELA KAXUYANA
GREGORIO DIAZ MIRABAL
LIZARDO CAUPER
MAPU HUNI KUIN
SCIENZIATI ED ESPERTI
JANE GOODALL
THOMAS LOVEJOY
CARLOS NOBRE
LEILA SALAZAR LOPEZ
ATOSSA SOLTANI
WADE DAVIS
JEAN-MICHEL COUSTEAU
CELINE COUSTEAU
CHRISTINA MILLER
[siteorigin_widget class="MailPoet\\Form\\Widget"][/siteorigin_widget]
[siteorigin_widget class="MailPoet\\Form\\Widget"][/siteorigin_widget]
Ascolta Genesis & Co.anche su: