Genesis Tribute Bands: Gabriel Knights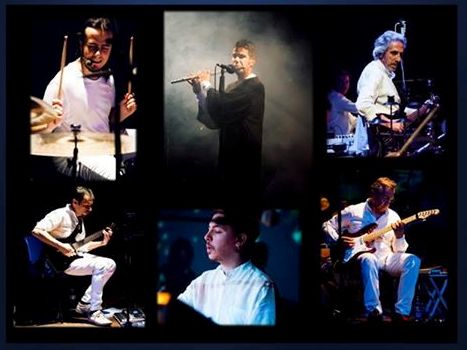 Multimedia pages of Horizons Radio on Tribute Bands dedicated to Genesis & Co. Here is Gabriel Knights.
Self-presentation:
The Gabriel Knights are born one deal at a time. In the beginning, even before becoming "the knights of Gabriel", they play mixed covers with a formation of five elements. Then, Francesco, Federico and Maurizio, not happy to be simple Genesis fans, propose to focus only on the British prog group par excellence. Afterwards, the meticulous research of the original sounds and arrangements leads them to add a sixth element to complete the formation. A lot of passion, attention to detail and complicity born from friendship is what you feel when you hear them play. From 2010 to today those agreements have become a vast repertoire. With a new line-up they set off again determined to achieve the goal of their project: to reproduce live the faithful execution of the classic albums of Genesis of the Peter Gabriel era.
The band:
SIMONE ROSATI Voice, Flute, Percussion
FEDERICO LANZA Guitars
STEFANO MAZZOTTA Guitars and Choirs
EMANUELE GRIGIONI Keyboards and Choirs
MAURIZIO LUZZI Bass, Bass Pedal and Guitars
FRANCESCO LANZA Drums, Choirs and Sound Engineering