Trent'anni fa il 17 maggio 1987 i Genesis sono in concerto a Roma e due giorni dopo a Milano. Ecco un ricordo di quei giorni.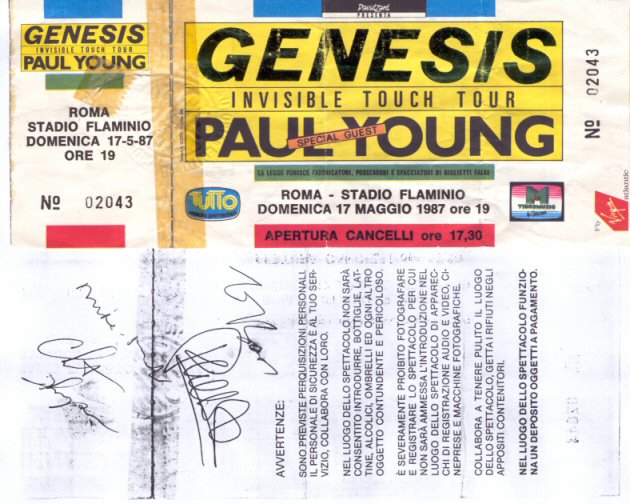 by D.B.
Alle 17.30 di domenica 17 maggio si aprono i cancelli dello Stadio Flaminio di Roma. Lo spettacolo è previsto per le 19 - come si vede nel biglietto qui sopra -, ancora con la luce diurna.
Il supporter è Paul Young, il quale viene letteralmente bersagliato da ogni tipo di oggetti, evidenziando la scelta poco felice dell'abbinamento. La gente vuole ascoltare solo i Genesis.
Il concerto ha svariate coperture mediatiche. Radio RAI fa uno speciale, con un po' di brani registrati a Malaga, una settimana prima, e la diretta dal Flaminio. Difficile ricostruire se è stato trasmesso anche lo show milanese. Anche Radio Centofiori, emittente fiorentina legata al P.C.I. dedica molto spazio all'evento.  In Tv va in onda un servizio del TG1 intitolato "Il Rock è luce".
Al contrario di Milano, come vedremo, non ci sono video o registrazioni audio su YouTube - le poche realizzate, vista la stretta sorveglianza su macchine fotografiche e altro, restano private al momento - ma ecco alcune foto tratte da Genesis The Movement - 1 e 2.
Ecco la scaletta, come riportata dal sito sopra citato:
Mama 07:13
Abacab 08:39
Phil Speaking In Italian 02:13
Domino 11:22
That's All 05:21
The Brazilian 05:08
Phil Speaking In Italian 01:26
In The Cage Medley 07:59
In That Quiet Earth 04:22
Afterglow 04:28
Land Of Confusion 05:09
Phil Speaking In Italian 01:32
Tonight Tonight Tonight 09:05
Throwing It All Away 06:26
Phil Speaking In Italian 02:19
Home By The Sea 11:31
Invisible Touch 04:52
Drum Duet 05:52
Los Endos 06:08
Turn It On Again 12:45
Il gruppo inizia con due cavalli di battaglia del nuovo corso, di ottimo livello e collaudati, che costituiscono una potente apertura del concerto (Mama e Abacab). Guarda il video dal Live di San Siro a Milano:
Tra i nuovi brani funzionano bene Domino e The Brazilian, anche se alleggeriti da brani come That's All. Guarda il video dal Live di Milano:
Tra i classici, invece, ultimo tour per In The Cage, che si abbina in medley con In That Quiet Earth e va a sfociare in Afterglow. Guarda il video dal Live di Milano:
Purtroppo da questo medley esce per sempre Apocalipse in 9/8, rimasuglio della gloriosa Supper's Ready. Quando lo show arriva in Italia, non c'è più traccia di questo cavallo di battaglia dei live dei Genesis e capolavoro amatissimo dai fan, richiesto a gran voce in ogni concerto. La causa: lo sforzo che richiede alla voce di Phil Collins. Ecco come si presentava nella parte americana del tour il medley Cage-Quiet-Apocalipse. ASCOLTA:
E a proposito di variazioni, ecco come veniva eseguito, nella parte Australiana del tour, un brano fuori scaletta:  Your Own Special Way, con l'accompagnamento della "Invisible String Section", costituita da orchestre locali a seconda delle città, come da legge del posto. ASCOLTA:
Indimenticabile poi il drum duet di Phil e Chester Thompson (che, come è noto, con Daryl Stuermer da anni accompagna in tour i Genesis), in cui i due, ormai affiatatissimi, sono sincronizzati come due orologi. Eccolo tratto dallo  show dello Stadio Wembley ai primi di luglio. ASCOLTA:
Clicca qui o sulle immagini e COMPRA IL DVD del concerto di Wembley: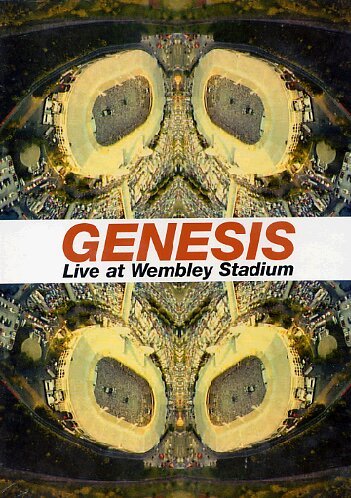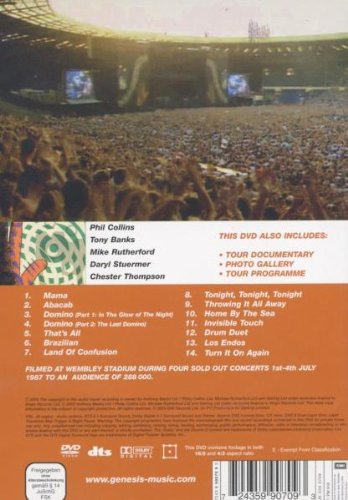 E, dal concerto di Milano, ecco il finale. ASCOLTA:
 Altro materiale video sull'Invisible Touch Tour: 
Se hai ricordi, racconti, materiali di questi due concerti e vuoi condividerli con Horizons Radio scrivi qui.
Ascolta Genesis & Co.anche su: