Partito da Manchester il tour in Europa di The Musical Box, i quali presentano sia il "normal" Selling England Show, che la versione The Black Show. In Italia a novembre con "The Black".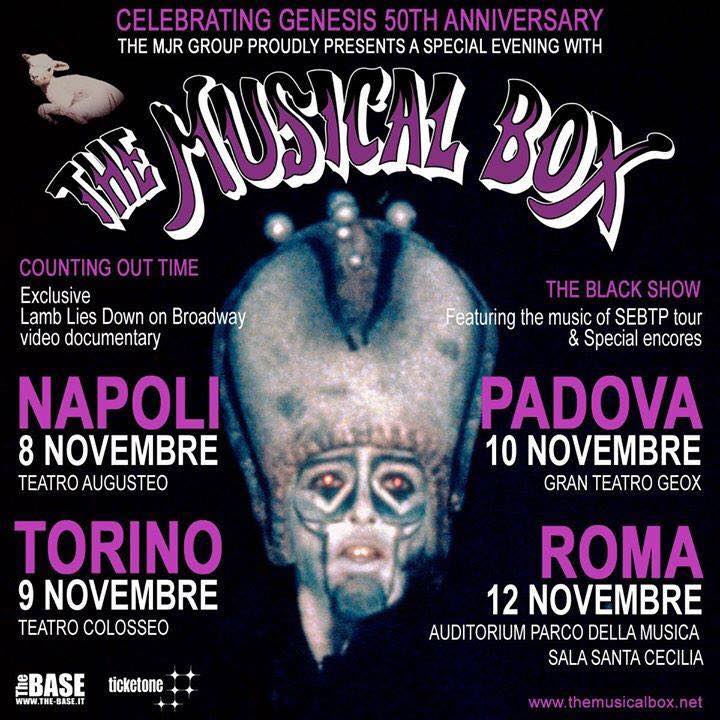 Il live "Black" rappresenta una versione unica di Selling England by The Pound che i Genesis hanno realizzato unicamente nel tour americano del 1974.
La band inoltre regalerà uno speciale "Lamb Encore" in ogni concerto, cioè 20 minuti circa di materiale dell'album doppio, dopo l'intero Selling England Show.
Le prossime date (SE: "normal" Selling England Show
BS: "Black" Selling):
11/10/17
BS Gateshead - Sage One UK
13/10/17
BS Birmingham - Symphony Hall UK
15/10/17
BS Basingstoke - The Anvil UK
16/10/17
BS Southend - Cliffs Pavilion UK
18/10/17
BS Cardiff - Tramshed UK
19/10/17 BS Glasgow - O2 ABC UK
21/10/17 BS Edinburgh - Usher Hall UK
22/10/17 BS London - Eventim Apollo UK
23/10/17 BS Liverpool - Philharmnic Hall UK
26/10/17 BS Leeds - Town Hall UK
29/10/17 BS Leicester - De Montfort Hall UK
02/11/17
BS Lisbon - Aula Magna Portugal
06/11/17
BS Barcelona - BARTS Spain
16/11/17
BS Neuruppin - Kulturkirche Germany
17/11/17
SE Walsrode - Stadthalle Germany
18/11/17
BS Walsrode - Stadthalle Germany
23/11/17
BS Dillingen - Lokschuppen Germany
24/11/17
SE Castrop-Rauxel - Stadthalle Germany
25/11/17
SE Offenbach - Capitol Germany
Un tour che in Italia toccherà 4 città:
8 novembre Napoli (Teatro Augusteo) - Biglietti
9 novembre Torino (Teatro Colosseo) - Biglietti
10 novembre Padova (Gran Teatro Geox) - Biglietti
12 novembre Roma (Auditorium Parco della Musica, Sala Santa Cecilia) - Biglietti
Non perdere i nuovi contenuti.