Per dare un aiuto alla sua crew e ai lavoratori della musica in questi tempi difficili, Steve Hackett ha aderito a molte iniziative. Ecco le ultime.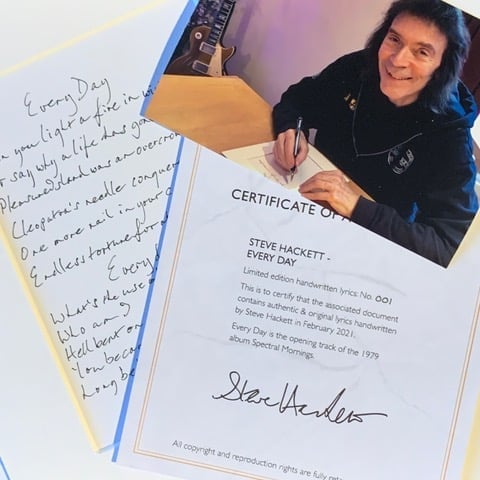 Extra Hand Written Lyrics è disponibile adesso.
La risposta ai pacchetti di testi scritti a mano da Steve a sostegno della Hackett Crew è stata incredibile e commovente.
Hackett ha preso del tempo dal lavoro sul suo prossimo album per scrivere altre 25 copie di ogni canzone: "Shadow Of The Heirophant" e "Every Day".
Tutti i profitti andranno a sostenere la crew di Steve Hackett in questi tempi difficili.
Gli articoli speciali sono disponibili esclusivamente dal link qui sotto NON dal webstore principale HackettSongs.
Come prima, è probabile che si esauriranno MOLTO in fretta, quindi ordinate in fretta per evitare delusioni.
https://andreaholmesartist.com/steve-hackett-exclusives
Ecco i post di Steve che segnalano altre recenti iniziative:
STAGEHAND CHARITY - WIN A GIBSON LES PAUL SIGNED BY STEVE

https://www.crowdfunder.co.uk/win-steve-hackett-les-paul

The...

Pubblicato da Steve Hackett su Venerdì 12 marzo 2021
Win a signed Gibson Les Paul by Steve Hackett!

I'm really excited to be involved with the #ILoveLive prize draws which...

Pubblicato da Steve Hackett su Mercoledì 3 marzo 2021
Le ultime di Steve su Horizons Genesis
Iscriviti alla nostra Newsletter
Iscriviti alla nostra Newsletter
Ascolta Genesis & Co.anche su: