By Old King Cole & Saimon P. - 
Genesis & Co. Tribute Band. The Musical Box sono stati in Italia con "A Genesis Extravaganza Vol. 2". INTERVISTA.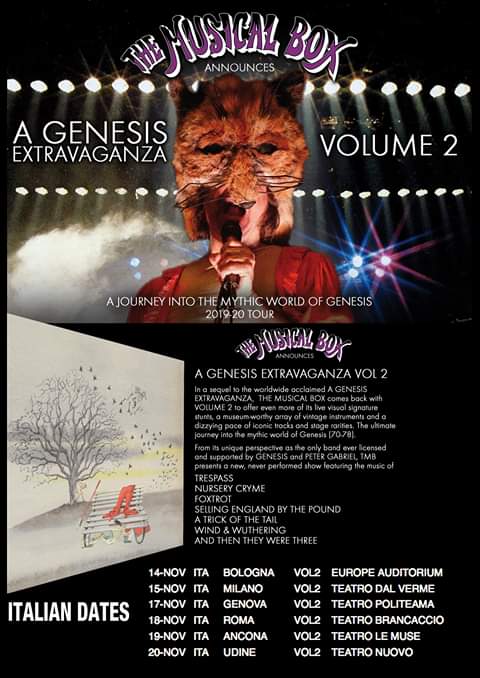 The Musical Box, la più importante e acclamata tribute band mondiale dei Genesis, sono stati in Italia con un nuovo e inedito show con la musica dei loro album storici: Trespass, Nursery Cryme, Foxtrot, Selling England By The Pound, A Trick Of The Tail, Wind & Wuthering e And Then They Were Tree.
Le date:
14 novembre a Bologna, Europe Auditorium - SETLIST & SOCIAL NEWS:
15 novembre a  Milano, Teatro del Verme - SOCIAL NEWS:
17 novembre  a  Genova, Teatro Politeama
18 novembre  a Roma, Teatro Brancaccio
19 novembre a  Ancona, Teatro Le Muse - CON UN BRUTTISSIMO E VERGOGNOSISSIMO IMPREVISTO (ci facciamo sempre riconoscere):
20 novembre a Udine, Teatro Nuovo
Prima del loro arrivo in Italia, The Musical Box hanno concesso a Horizons Radio un'intervista:
Horizons Radio: La scaletta dei prossimi concerti del tour europeo sarà simile a quella della prima tappa di Extravaganza Volume 2?
The Musical Box: Sì. Abbiamo dovuto cambiare la scaletta del Volume 1 molte volte per cercare di aggiustarla e soddisfare il maggior numero di persone possibile e riprodurre il maggior numero di canzoni possibile. Per il Volume 2 siamo rimasti fedeli alla setlist originale che avevamo programmato alla fine del primo tour.
La prima parte è focalizzata sulle canzoni più recenti ("A Trick of the Tail", "Wind and Wuthering" e "...And Then There Were Three..."), e poi  è il momento dell'era Gabriel. Perché?
Per lo stesso motivo del Volume 1. The Musical Box hanno suonato per oltre 25 anni i Genesis dell'era Gabriel e i nostri fan sono anche più abituati a questo periodo. Ci siamo divertiti moltissimo a lavorare sul "materiale Collins", imparandolo e suonandolo per A Genesis Extravaganza. Ma torniamo sempre al materiale più vecchio.
Il bis è speciale. 
Il bis è la canzone preferita dei Genesis della band.
Denis Gagné canta sia come "Peter Gabriel" che come "Phil Collins". È difficile?
Gabriel sarà sempre più naturale per Denis, ma se la cava bene anche con Collins.
Dopo anni di tour di singoli album, perché avete deciso di cambiare con A Genesis Extravaganza?
Era arrivato il momento di provare qualcosa di nuovo. Così, quando poi torneremo ai tour originali, dopo un paio di anni, sentiremo ancora una volta. 
Festeggiate 25 anni di attività della Band. Coloro che l'hanno fondata, hanno ancora l'entusiasmo iniziale?
Ci sono ancora 2 membri originali e il modo in cui mantengono l'entusiasmo è quello di cercare di fare cose nuove, vecchi suoni e nuove canzoni.
Avete cambiato formazione diverse volte. Suonare in The Musical Box è stressante, difficile o impegnativo?
Sì, è tutto questo, prima o poi.
Il vostro ultimo cambio di formazione è stato quando Ian Benhamou ("Tony Banks") e Bob St-Laurent ("Phil Collins") sono diventati nuovi membri della band. Perché questi cambiamenti?
Perché le persone passano ad altri progetti o non vogliono trascorrere mesi e mesi in tour lontani da casa. Ci sono tutte le ragioni possibili. Un esempio: Marc Laflamme, il batterista precedente, è stato assunto nel 2008 per un solo tour, ma è rimasto per 10 anni. Gestiva un negozio di strumenti musicali nello stesso periodo.
Qual è la difficoltà maggiore nel suonare i Genesis?
Cercare di suonare come loro, riproducendo i loro stessi suoni e fare ciò concerto dopo concerto. 
E qual è l'emozione più bella nel suonare i Genesis?
Essere in grado di rendere giustizia alle canzoni e a questi geni ventenni che hanno scritto tutti questi meravigliosi capolavori.
"Gabriel era" o "Collins era", quale è il vostro preferito e perché?
C'è del buono in tutte le epoche dei Genesis, ma per noi l'era Gabriel è stata la più emozionante, musicalmente più avventurosa.
Siete in contatto con qualche ex membro dei Genesis?
In realtà non più. Se c'è bisogno di discutere di qualcosa con loro lo facciamo  per lo più attraverso gli agenti o lo staff del gruppo. All'inizio avevamo molte domande da fare loro e spesso li abbiamo incontrati e da lì si sono sviluppate certe relazioni.
Avete un lungo tour mondiale fino alla primavera del 2020. Vi fermate mai?
Di solito durante i mesi estivi, ma poi iniziamo a pianificare il prossimo tour.
State arrivando anche in Italia, sei date. Sentite lo speciale legame che il pubblico italiano ha sempre avuto nei confronti dei Genesis?
Sì, fin dalla prima volta che abbiamo suonato in Italia nel 2004 abbiamo sentito che queste persone ascoltavano e accoglievano i Genesis seriamente ed entusiasticamente.
Avete un messaggio speciale per i vostri fan italiani?
Molte delle canzoni che suoniamo in questo tour saranno eseguite molto probabilmente per l'ultima volta. Ci auguriamo che veniate a sentirle e che vi piaccia Volume 2 tanto quanto Volume 1.
La storia dei Genesis, raccontata dai canadesi The Musical Box e acclamata in tutto il mondo, ritorna con il "Volume 2" per offrire ancora dei live accompagnati da una serie di strumenti originali. Un viaggio nel mitico mondo dei Genesis del periodo più apprezzato dai fan della prima ora, quello dal 1970 al 1978.
The Musical Box hanno avuto come ospiti sul palco due storici componenti dei Genesis come Phil Collins e Steve Hackett.
"Non sono semplicemente una tribute band – dice di loro Collins – riproducono esattamente i nostri show dell'epoca".
Infatti The Musical Box sono acclamati per la loro storica rievocazione dei Genesis, grazie allo studio dettagliato dei primi rari video della band inglese, e si sono esibiti per milioni di spettatori in tutto il mondo in alcune delle più prestigiose venue come il London Royal Albert Hall e Paris Olympia.
"Li ho visti a Bristol con i miei figli – racconta Peter Gabriel – così ho potuto mostrare loro cosa faceva il padre da giovane".
Nella loro ricerca di autenticità sono infatti citati in tutto il mondo per le loro ottime interpretazioni dei Genesis del primo periodo. Nulla è lasciato al caso: dalle maschere che indossava Peter Gabriel (alcune donate proprio dall'ex cantante), alla riproduzione dei costumi, delle luci e dei movimenti negli show.
"Non solo il suono è autentico – dice Steve Hackett – ma sul palco sono identici ai Genesis anche nell'aspetto".
"Meglio degli originali", sostiene Mike Rutherford.
Il loro tour mondiale ora arriva anche in Italia, organizzato da Musical Box 2.0 Promotion e Ventidieci.
Video Playlist (updated):
Videos:
Serge Morissette talks about "Genesis Extravaganza 2.0" - Video:
Iscriviti alla nostra Newsletter
Iscriviti alla nostra Newsletter
Iscriviti alla nostra Newsletter
Ascolta Genesis & Co. anche su: