Steve Hackett: 4 – 9 February on the Cruise To The Edge 2019, 10 – 15 Feb. On The Blue Cruise. SOCIAL & VIDEOS.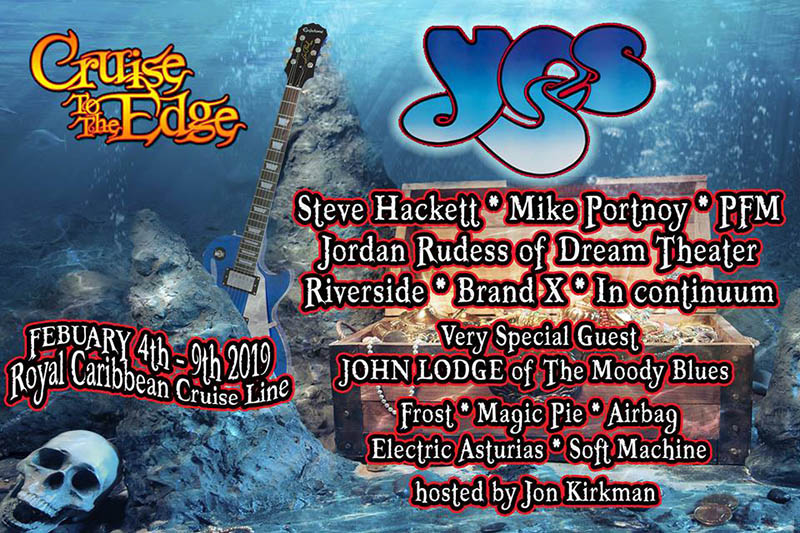 Departing from Tampa, Florida, Cruise t the Edge is the greatest Prog Rock Vacation on Earth. 
Social:
A great Q&A with Roger Dean on the boat yesterday. CTTE has been fantastic! Travelling across Florida today to join On The Blue cruise in Miami tomorrow… pic.twitter.com/sYlDaf02We

— Steve Hackett (@HackettOfficial) 9 febbraio 2019
Was great fun soling on a number at Dave Kerzner's show last night… pic.twitter.com/ATEjkn3ppP

— Steve Hackett (@HackettOfficial) 8 febbraio 2019
Last night's show on Cruise To The Edge was explosive! A particularly amazing crowd reaction when the incredible sisters Lorelei and Durga McBroom joined us on Every Day… pic.twitter.com/pT0VQGbcKq

— Steve Hackett (@HackettOfficial) 7 febbraio 2019
Steve Hackett CTTE pic.twitter.com/Lk4YJb6YSF

— steve richards (@stevevor) 6 febbraio 2019
It's fantastic to be back on Cruise To The Edge! Brilliant crowd, band on top form with amazing Marco Minnemann on drums, and great atmosphere all round! pic.twitter.com/QAUGJLFi51

— Steve Hackett (@HackettOfficial) 5 febbraio 2019
Just boarded and boat about to set sail… pic.twitter.com/gvCx1VcVuE

— Steve Hackett (@HackettOfficial) 5 febbraio 2019
Let the Prog hangs begin! Haven't even boarded the ship yet and already having a great time with fellow musicians and friends! Hangin w #marcominnemann and @HackettOfficial @cruisetotheedge #cruisetotheedge pic.twitter.com/aBBYOSq43G

— Mike Portnoy ? (@MikePortnoy) 5 febbraio 2019
In the Florida sunshine waiting for the call to board the ship for Cruise To The Edge… pic.twitter.com/DEdbyx1vj7

— Steve Hackett (@HackettOfficial) 4 febbraio 2019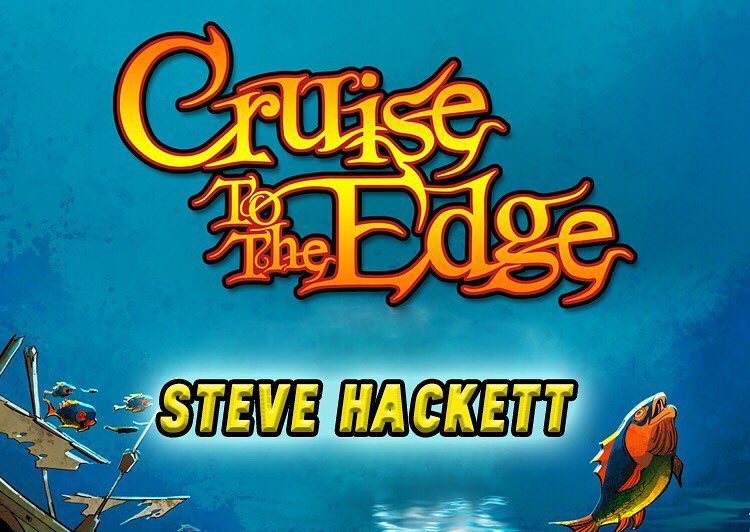 Next Cruise:
Brand X next dates: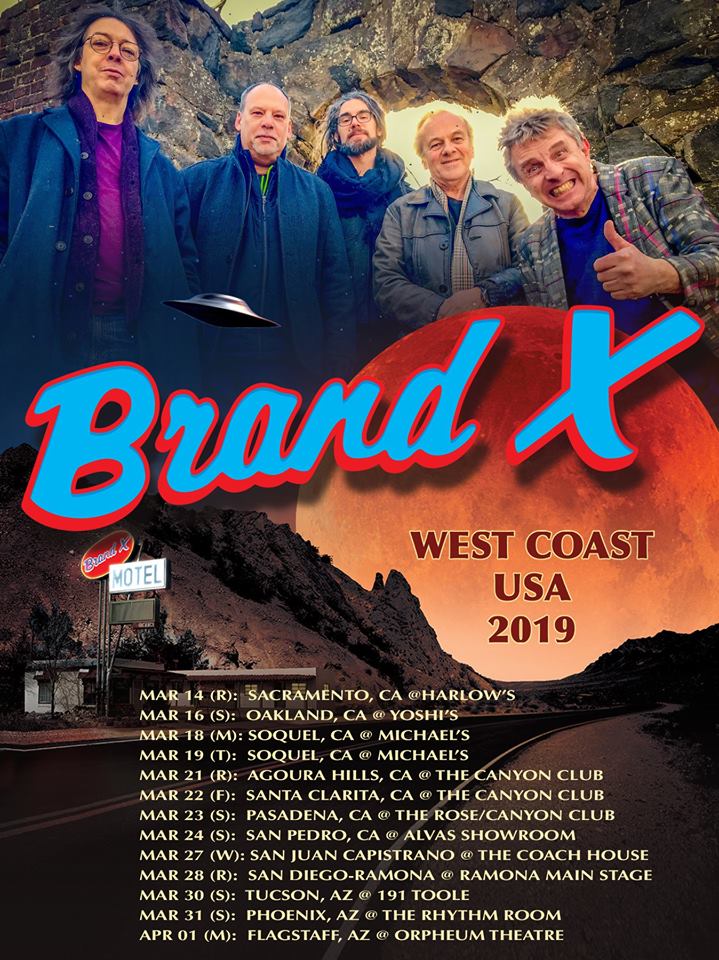 Steve Hackett's next dates: 

April 2019
22 April – Kursaal Oostende Oostende, BELGIUM – Tickets
23 April – Laeiszhalle Hamburg, GERMANY – Tickets
24 April – TonHalle Munich, GERMANY – Tickets
26 April – Hegel – Saal Stuttgart, GERMANY – Tickets
27 April – Museumsquartie Vienna, AUSTRIA – Tickets
29 April – Auditorium Conciliazione Rome, ITALY – Tickets 
30 April – Auditorium Europa Bologna, ITALY – Tickets
May 2019
2 May – Teatro Colosseo Torino, ITALY – Tickets 
3 May – Teatro Creberg Bergamo, ITALY – Tickets 
From the website: 
Setting off on 22nd April, Steve and his band will perform in 31 shows in 17 countries.
For the first time ever, Steve will perform the seminal Genesis album Selling England By The Pound in its entirety. Released in 1973, the album went to No. 3 in the UK charts, has been described as 'the definitive Genesis album.' It includes firm favourites such as Dancing with the Moonlit Knight, Firth of Fifth, Cinema Show and, of course, I Know What I Like (In Your Wardrobe). Other favourite classic Genesis tracks will also feature in the show.
2019 also marks the 40th anniversary of one of Steve's most popular solo albums Spectral Mornings and Steve will rightly celebrate this milestone by performing some of the masterpieces from the album.
Fans will also be treated to highlights from Steve's new album, to be released in 2019. Steve explains,
 "I'm thrilled to be performing the whole of my favourite Genesis album, SELLING ENGLAND BY THE POUND, which caught the attention of John Lennon in 1973. I felt that I was now playing guitar in the world's best band, and everything was opening up for us…

Also I look forward to playing all the favourite songs from SPECTRAL MORNINGS, marking its anniversary, plus new album tasters, as well as additional Genesis gems in a terrific grand slam!."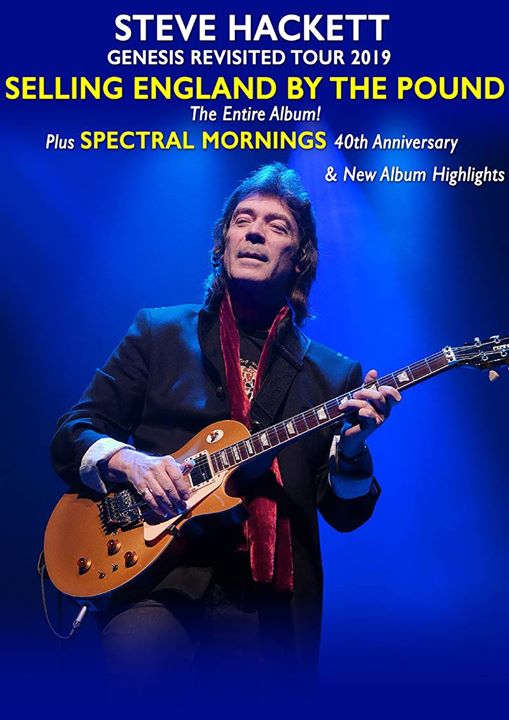 Non perdere i nuovi contenuti.
Listen to Horizons Radio #NowPlaying Live:
Ascolta Genesis & Co.anche su: