Steve Hackett joins Djabe as a special guest on The Journey Continues Tour in Hungary & Czech Republic. INFO, TICKETS & SOCIAL.
[gtranslate]
By Old King Cole
Arrived in Budapest, Hungary and now rehearsing with Djabe… pic.twitter.com/XCPbjbn3bK

— Steve Hackett (@HackettOfficial) July 29, 2019
30 July – Show 1 – 19:00 – Budapest Jazz Club, Budapest, HUNGARY 
30 July – Show 2 – 20:45 – Budapest Jazz Club, Budapest, HUNGARY – SOCIAL:
Magical feel in Budapest for two shows with Djabe last night… here on "The last train to Istanbul"… pic.twitter.com/58rBFMDk48

— Steve Hackett (@HackettOfficial) July 31, 2019
31 July – Korumni Pevnustka, Olomouc, CZECH REPUBLIC – Tickets
1 August – Ady Endre Kűvelődési Ház, Miskolc, HUNGARY
2 August – Lellei Borhét, Main square, open air free show, Balatonlelle, HUNGARY – Free open air show
3 August – Váci Mihály Kulturális Központ, Nyíregyháza, HUNGARY –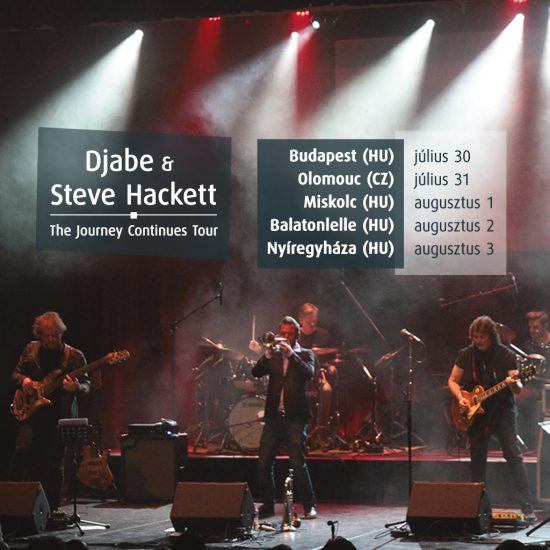 Steve Hackett – guitar, vocal
Barabás Tamás – bass guitar
Égerházi Attila – guitar, percussions
Kaszás Péter – drums
Koós-Hutás Áron – trumpet
Nagy János – keyboards
Djabe & Steve Hackett – The Journey Continues Tour
Attila Égerházi, founder and band leader of Djabe has a friendship of 20 years with Steve Hackett, guitar player of Genesis. Their first musical cooperation took place in 2003 when working on Djabe: Sheafs Are Dancing. The first joint gig happened in summer 2004, in the Spitz Club, London. In 2007 Steve helped in filling the Petőfi Csarnok venue in Budapest, at the memorial concert for András Sipos. Hackett was greatly influenced by Djabe's musical spirituality, openness and playing style that finally he himself asked to continue this joint adventure. Every year since 2008, Hackett and Djabe joins for a tour, featuring Djabe, Steve Hackett and Genesis pieces. Steve Hackett was featured on 6 joint albums with the band since 2011. The last 3 of these released under Cherry Red Records's Esoteric Antenna label. Thanks to Cherry Red these albums are globally available and sold in the thousands. Besides these joint albums, Steve frequently features as a guest star on Djabe's albums, while Djabe musicians participate on numerous recordings of Hackett.
Life Is A Journey – The Sardinia Tapes, recorded on the island of Sardinia (unique in its sounding and instrumental-progressive genre) brought great success to the Djabe & Steve Hackett formation. This album was born after 3 days together in the island, doing impros, when Tamás Barabás (bass player of Djabe) made it into a full-length studio album. Both Steve and all Djabe members found his work amazing, and Life Is A Journey – The Sardinia Tapesreleased globally on 4 October 2017, followed by a premiere gig in Budapest. The recordings of latter gig served as basis for Life Is A Journey – The Budapest Live Tapes, released on 12 September 2018.
The DVD version features a video documentary with recordings of the concert: Tour Is A Journey.
The journey continues in 2019: Steve Hackett and Djabe once again will be on tour in July-August.
From djabe.hu
THE TOUR IN ITALY – SPECIAL:
Italian adventures – Pedestals, Ports and Piazzas – Steve's latest tour blog.
14 July – Arena del Mare, Genova – Setlist, SOCIAL,  VIDEO & PRESS REVIEWS:
Great to be here in spectacular Genoa! Show tonight… details via https://t.co/ZN5QwletyT pic.twitter.com/G90Na5uDf2

— Steve Hackett (@HackettOfficial) July 14, 2019
Wonderful evening last night in Genoa with an amazing crowd and huge cruise ships passing by… pic.twitter.com/XapIojfdVK

— Steve Hackett (@HackettOfficial) July 15, 2019
After a a few weeks of teaching, programming and masterclasses I'm back out with @HackettOfficial on the Genesis Revisited Tour of Italy pic.twitter.com/rzYF074cJT

— Craig Blundell (@craigblundell) July 14, 2019
16 July – Parco San Valentino, Pordenone – Setlist, SOCIAL & VIDEO:
It was special to meet the Mayor of Pordenone today when he presented me with the "keys of the city" honour. Looking forward to tonight's show #pordenone pic.twitter.com/Lgn88Lvz4q

— Steve Hackett (@HackettOfficial) July 16, 2019
Oggi, il sindaco del @comunedipordenone , Alessandro Ciriani, ha conferito il sigillo della città a #SteveHackett @HackettOfficial in occasione della 28a edizione del #PNBluesFest pic.twitter.com/pL04Db8CYD

— Pordenone Blues Fest (@PNBluesFestival) July 16, 2019
17 July – Piazza Sordello, Mantova – Setlist & SOCIAL:
Magical show in Moonlit Mantova last night… Firenze tonight! pic.twitter.com/WWggZtarhi

— Steve Hackett (@HackettOfficial) July 18, 2019
18 July – Piazza Santissima Annunziata, Firenze – Setlist, SOCIAL & VIDEO:
Wonderful to play in a beautiful Firenze piazza to such a terrific crowd last night… Rome tomorrow! pic.twitter.com/7H5omB0A9q

— Steve Hackett (@HackettOfficial) July 19, 2019
20 July – Auditorium Parco della Musica – Cavea, Roma –

Setlist

,

SOCIAL & VIDEO:
[siteorigin_widget class="WYSIJA_NL_Widget"][/siteorigin_widget]
[siteorigin_widget class="WYSIJA_NL_Widget"][/siteorigin_widget]
Ascolta Genesis & Co.anche su: