Steve Hackett
The Total Live Experience
After remastering the beginning of his studio career, Steve Hackett gives fans a double CD and DVD registered live in Liverpool during his recent tour.
The Total Experience Live In Liverpool: Acolyte To Wolflight With Genesis Classics, 2CD + 2DVD deluxe package.
Recorded during the 2015 tour, which also touched Italy, Hackett chose the Liverpool date because, he says, "it is known that the city is home to all the good music".
Like any tour date, the show sees Steve play two sets: one based on his work from soloist, the other with the most significant moments of his stay in the genesis. The result is a long concert, full of excellent music, which highlights the stature of one of the best guitarists in the world.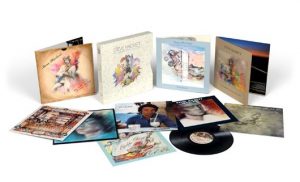 In 2015 Hackett celebrated on 40th anniversary of his first solo album Voyage Of The Acolyte.
Acolyte To Wolflight With Genesis Classics it is therefore a new opportunity to celebrate the extraordinary career of the guitarist.
Already with Premonitions, monumental box set of 2015, which brings together the 14 albums of the era Charisma e The Charisma Years: 1975-1983, 8LP + 12 "EP on vinyl, released on May 27th, Steve gave the opportunity to appreciate the great work of the first albums with new quality.

Now it's time to focus on his immense live engagement. In addition to the complete set played on the night of the Liverpool concert, those who buy the live box set will be able to browse the backstage and enjoy the documentary Somewhere South Of The River with videos from Corycian Fire, Wolflight and Love Song To A Vampire.
Here is the tracklist di The Total Experience Live In Liverpool:
CD1
'Corycian Fire Intro'
'Spectral Mornings'
'Out Of The Body'
'Wolflight'
'Every Day'
'Love Song To A Vampire'
'The Wheel's Turning'
'Loving Sea'
'Jacuzzi'
'Icarus Ascending'
'Star Of Sirius'
'Ace Of Wands'
'A Tower Struck Down'
CD2
'Shadow Of The Hierophant'
'Get' Em Out By Friday '
'Can-Utility And The Coastliners'
'After the Ordeal'
'The Cinema Show'
'Aisle Of Plenty'
'The Lamb Lies Down On Broadway'
'The Musical Box'
'Clocks'
'Firth Of Fifth'
DVD1
'Corycian Fire Intro'
'Spectral Mornings'
'Out Of The Body'
'Wolflight'
'Every Day'
'Love Song To A Vampire'
'The Wheel's Turning'
'Loving Sea'
'Jacuzzi'
'Icarus Ascending'
'Star Of Sirius'
'Ace Of Wands'
'A Tower Struck Down'
'Shadow Of The Hierophant'
'Get' Em Out by Friday '
'Can-Utility And The Coastliners'
'After the Ordeal'
'The Cinema Show'
'Aisle Of Plenty'
'The Lamb Lies Down On Broadway'
'The Musical Box'
'Clocks'
'Firth Of Fifth'
DVD2
'Live In Liverpool: Behind The Scenes'
'Somewhere South Of The River: Rehearsal Documentary'
Videos: 'Corycian Fire', 'Wolflight', 'Love Song To A Vampire'
Listen to the interview with Steve Hackett of Horizons Radio:
Steve Hackett live 2015/2016. Watch the Horizons Radio Playlist: