Steve Hackett
La Totale Esperienza Live
Dopo aver rimasterizzato l'inizio della sua carriera in studio, Steve Hackett regala ai fan un doppio CD e DVD registrato live a Liverpool nel corso del suo recente tour.
The Total Experience Live In Liverpool: Acolyte To Wolflight With Genesis Classics, 2CD+2DVD deluxe package.
Registrato durante il tour del 2015, che ha toccato anche l'Italia, Hackett ha scelto la data di Liverpool perché, dice, "è noto che la città ospita tutta la buona musica".
Come ogni data del tour, lo show vede Steve suonare due set: uno basato sul suo lavoro da solista, l'altro con i momenti più significativi della sua permanenza nei Genesis. Il risultato è un lungo concerto, ricchissimo di ottima musica, che evidenzia la statura di uno dei migliori chitarristi del mondo.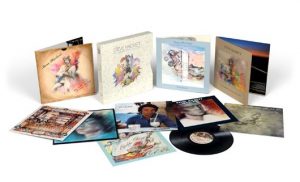 Nel 2015 Hackett ha festeggiato il 40.mo anniversario del suo primo album da solista Voyage Of The Acolyte.
Acolyte To Wolflight With Genesis Classics è quindi una nuova occasione per celebrare la straordinaria carriera del chitarrista. 
Già con Premonitions, monumentale box set del 2015, che riunisce i 14 album dell'era Charisma e The Charisma Years: 1975-1983, 8LP+12" EP in vinile, usciti il 27 maggio scorso,  Steve ha dato la possibilità di apprezzare con nuova qualità il grande lavoro dei primi album.

Adesso è la volta di concentrarsi sul suo immenso impegno live. Oltre al set completo suonato nella notte del concerto di Liverpool, chi acquista il cofanetto live potrà curiosare nel backstage e gustare il documentario Somewhere South Of The River con i video di Corycian Fire, Wolflight e Love Song To A Vampire.
Ecco la tracklist di The Total Experience Live In Liverpool: 
CD1
'Corycian Fire Intro'
'Spectral Mornings'
'Out Of The Body'
'Wolflight'
'Every Day'
'Love Song To A Vampire'
'The Wheel's Turning'
'Loving Sea'
'Jacuzzi'
'Icarus Ascending'
'Star Of Sirius'
'Ace Of Wands'
'A Tower Struck Down'
CD2
'Shadow Of The Hierophant'
'Get 'Em Out By Friday'
'Can-Utility And The Coastliners'
'After The Ordeal'
'The Cinema Show'
'Aisle Of Plenty'
'The Lamb Lies Down On Broadway'
'The Musical Box'
'Clocks'
'Firth Of Fifth'
DVD1
'Corycian Fire Intro'
'Spectral Mornings'
'Out Of The Body'
'Wolflight'
'Every Day'
'Love Song To A Vampire'
'The Wheel's Turning'
'Loving Sea'
'Jacuzzi'
'Icarus Ascending'
'Star Of Sirius'
'Ace Of Wands'
'A Tower Struck Down'
'Shadow Of The Hierophant'
'Get 'Em Out by Friday'
'Can-Utility And The Coastliners'
'After The Ordeal'
'The Cinema Show'
'Aisle Of Plenty'
'The Lamb Lies Down On Broadway'
'The Musical Box'
'Clocks'
'Firth Of Fifth'
DVD2
'Live In Liverpool: Behind The Scenes'
'Somewhere South Of The River: Rehearsal Documentary'
Videos: 'Corycian Fire', 'Wolflight', 'Love Song To A Vampire'
Ascolta l'intervista a Steve Hackett di Horizons Radio:
Steve Hackett live 2015/2016. Guarda la Playlist di Horizons Radio: