Steve Hackett, NEW album At The Edge Of Light. BUY NOW.
 Order copies signed by Steve: store.hackettsongs.com
— Steve Hackett (@HackettOfficial) 24 gennaio 2019
— Steve Hackett (@HackettOfficial) 24 gennaio 2019
First Track - VIDEO:
* PRESS RELEASE *
Following the tremendous success of 2017's 'The Night Siren' (charted at #22 in Germany, #28 in the UK), legendary former Genesis guitarist Steve Hackett announces the release of his new studio album 'At The Edge Of Light' on the 25th January 2019. The album which features ten songs, sees Steve unite a vast amount of styles ranging from guitar driven rock to epic orchestration, from world music to the reflective and atmospheric all brought together in Steve Hackett's unique style.
Steve says: "In these dangerous times, deep shadows feel even sharper than usual and we find ourselves standing at the edge of light... The contrast between dark and light weaves its way throughout the album in many ways, from the sense of good fighting evil through to the interplay of dark and light opposites magically combining in cultures, including the heartbeat of India and primal tribal rhythms. Ultimately, this album embraces the need for all musical forms and cultures to connect and celebrate the wonder of unity in this divided world."
At The Edge Of Light is released in a number of formats including a Mediabook CD plus extra DVD with 5.1 surround sound mix & behind the scenes documentary, double vinyl LP + CD, Jewelcase CD and digital album.
Steve Hackett has announced the release of his new studio album 'At The Edge of Light' for 25th January 2019 @HackettOfficial pic.twitter.com/Z9r7HsWLWm

— InsideOut Music (@insideouteu) 25 ottobre 2018
Steve Hackett has established himself as one of Rock music's finest and recognisable guitarists through his time with the legendary Genesis who he joined in 1971 and a solo career following his departure from Genesis in 1977 and is a hugely influential guitarist particularly in the Progressive Rock genre. 'At The Edge Of Light' will be Hackett's 26th studio album in a solo career that began in 1975 with the release of his debut solo album Voyage Of The Acolyte.
'At The Edge Of Light' was mainly recorded in Steve's own studio but also around the world. The album features international artists, including Durga and Loreley of Pink Floyd vocal fame with drummers Nick D'Virgilio and Simon Phillips from USA, Sheema on sitar from India, Icelandic drummer/percussionist Gulli Briem, tar player Malik Mansurov and Swedish bass player Jonas Reingold... This album also features Paul Stillwell on didgeridoo, Rob Townsend on sax, bass clarinet and duduk, Amanda Lehmann on vocals, John Hackett on flute, drummer Gary O'Toole, Roger King and Ben Fenner on keyboards, Dick Driver on double bass, violinist and viola player Christine Townsend... All magically honed and engineered by Roger King.
Full Track Listing:
1. Fallen Walls and Pedestals
2. Beasts In Our Time
3. Under The Eye of the Sun
4. Underground Railroad
5. Those Golden Wings
6. Shadow and Flame
7. Hungry Years
8. Descent
9. Conflict
10. Peace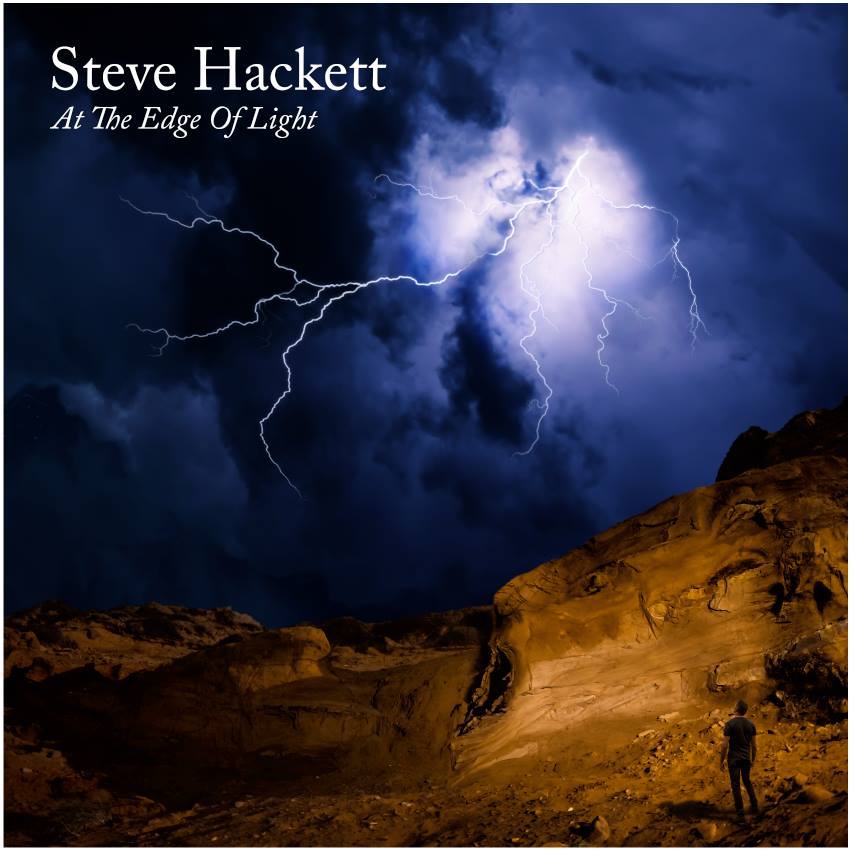 Steve Hackett a lavoro sul nuovo album: foto e commenti dai social.
Dick Driver's double bass sounds extraordinary on the album recordings... pic.twitter.com/ClwghnaDit

— Steve Hackett (@HackettOfficial) 22 agosto 2018
Fantastic to have multi-talented Rob Townsend playing on the new album today with sax and duduk... pic.twitter.com/oladRon3fv

— Steve Hackett (@HackettOfficial) 16 agosto 2018
Christine Townsend is playing violin and viola for the new album today. She's a great talent and her playing has an exquisite tone. pic.twitter.com/ONlSixnKTH

— Steve Hackett (@HackettOfficial) 15 agosto 2018
It's great to have my brother John with us today, adding his sublime flute to the new album recordings... pic.twitter.com/5CoeWzCeJM

— Steve Hackett (@HackettOfficial) 14 agosto 2018
Amazing day in the studio yesterday at Hackett HQ with @amandalehmann25 gracing @HackettOfficial 's new album with her fantastic voice. All sounding incredible - head and shoulders above the 'Progmire'! pic.twitter.com/aGgB2FTL2Z

— Paul Gosling (@CrookedHandProd) 4 agosto 2018
It was exciting to involve @amandalehmann25 on the recording sessions over the last two days with her fantastic singing and vocal ideas. Paul Gosling filming too... pic.twitter.com/sjKvjGAGIf

— Steve Hackett (@HackettOfficial) 4 agosto 2018
Recording going on now most days for my next album... today with didgeridoo player Paul Stillwell... pic.twitter.com/HRJ815yNfX

— Steve Hackett (@HackettOfficial) 1 agosto 2018
Roger and I are moving ahead with the new album recording and I'm thoroughly enjoying playing my new 12 string Rickenbacker... pic.twitter.com/0BsU1bjWrP

— Steve Hackett (@HackettOfficial) 27 giugno 2018
It was terrific to record a track for my new album today with the extraordinary singers Durga and Lorelei... pic.twitter.com/WQhN2CrEWH

— Steve Hackett (@HackettOfficial) 14 maggio 2018
Articolo in continuo aggiornamento. Per tutte le novità sull'argomento, iscriviti alle nostre Newsletter:
Non perdere i nuovi contenuti.