Steve Hackett: ecco "Selling England By The Pound & Spectral Mornings: Live At Hammersmith".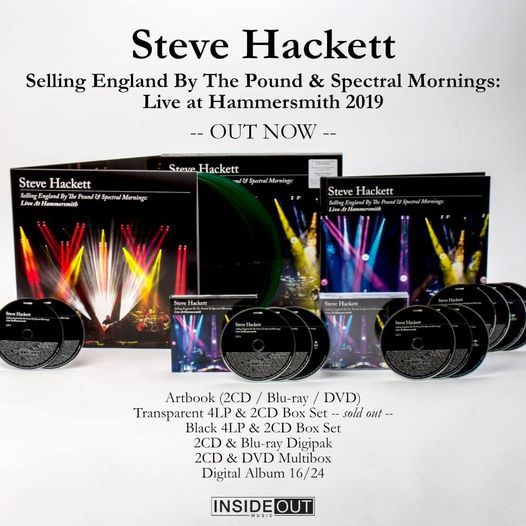 La registrazione live 2CD + DVD è tratta dal suo tour nel Regno Unito del 2019.
Ecco i vari formati:
Limited Edition Deluxe 2CD+Blu-ray+DVD with Artbook

2CD+Blu-ray Digipak
Limited Edition black 4LP+2CD Box Set
Limited Edition "Lawnmower green" 4LP+2CD Box Set (300 copies - exclusively offered through Steve Hackett's online store store.hackettsongs.com/)

Digital Album 
Guarda il trailer dell'album:
Ed alcuni video, che Steve ha regalato ai fan:
Il concerto è stato registrato all'Hammersmith Apollo, la serata finale del tour.
Steve Hackett è accompagnato dalla sua band: Roger King (tastiere), Jonas Reingold (basso), Rob Townsend (sassofoni e flauti), Craig Blundell (batteria e percussioni) e Nad Sylvan alla voce.
Ospiti speciali per questa performance sono stati il fratello di Steve, John Hackett (flauto) e Amanda Lehmann (chitarra e voce).
Questo è stato un tour molto speciale per Steve Hackett, in quanto ha riunito il suo album preferito del suo periodo come chitarrista con i Genesis, "Selling England By The Pound", che Steve e la sua band hanno eseguito dal vivo per la prima volta integralmente.
Lo show ha anche presentato brani selezionati dall'album personale preferito di Steve dalla sua lunga carriera solista "Spectral Mornings", insieme a brani del suo ultimo album in studio "At The Edge Of Light".
Steve commenta sul suo sito Hackettsongs: «Amalgamare tre album personali preferiti, tra cui l'intero Selling England by the Pound, la maggior parte di Spectral Mornings e At The Edge Of Light è stata un'esperienza live molto speciale. Sia l'audio che il video di questo prodotto danno un'esperienza sbalorditiva di una serata indimenticabile all'Hammersmith».
Il primo set del concerto comprende brani di "Spectral Mornings", che celebra il suo 40° anniversario, e "At The Edge Of Light". Steve e la band sono stati raggiunti da Amanda Lehmann alla voce e alla chitarra e da John Hackett, al flauto per The Virgin And The Gypsy e The Red Flower Of Tai Chi Blooms Everywhere.
La seconda parte è la registrazione live di "Selling England by the Pound" nella sua interezza, più Déja Vu, brano iniziato per l'album da Peter Gabriel, ma poi completato da Steve.
La registrazione si conclude con i bis del concerto di Dance On A Volcano e Los Endos.
Elenco delle tracce per formato:
CD 1:
1. Every Day
2. Under the Eye of the Sun
3. Fallen Walls and Pedestals
4. Beasts of our Time
5. The Virgin and the Gypsy
6. Tigermoth
8. Spectral Mornings
9. The Red Flower of Tai Chi Blooms Everywhere
10. Clocks - Angel of Mons
11. Dancing with the Moonlit Knight
12. I Know What I Like (In Your Wardrobe)
CD 2:
1. Firth of Fifth
2. More Fool Me
3. The Battle of Epping Forest
4. After The Ordeal
5. The Cinema Show
6. Aisle of Plenty
7. Déja Vu
8. Dance On A Volcano
9. Los Endos
DVD Package:
DVD
Concert (2 hours)
Blu-Ray Package:
Blu-Ray
Concert (2 hours)
Documentary (30 mins)
Iscriviti alla nostra Newsletter
Iscriviti alla nostra Newsletter