[glt language="English" label="English"]
[glt language="Spanish" label="Español"]

[glt language="Chinese (Simplified)" label="中国"]

[glt language="Russian" label="Россия"]
[glt language="Portuguese" label="Português"]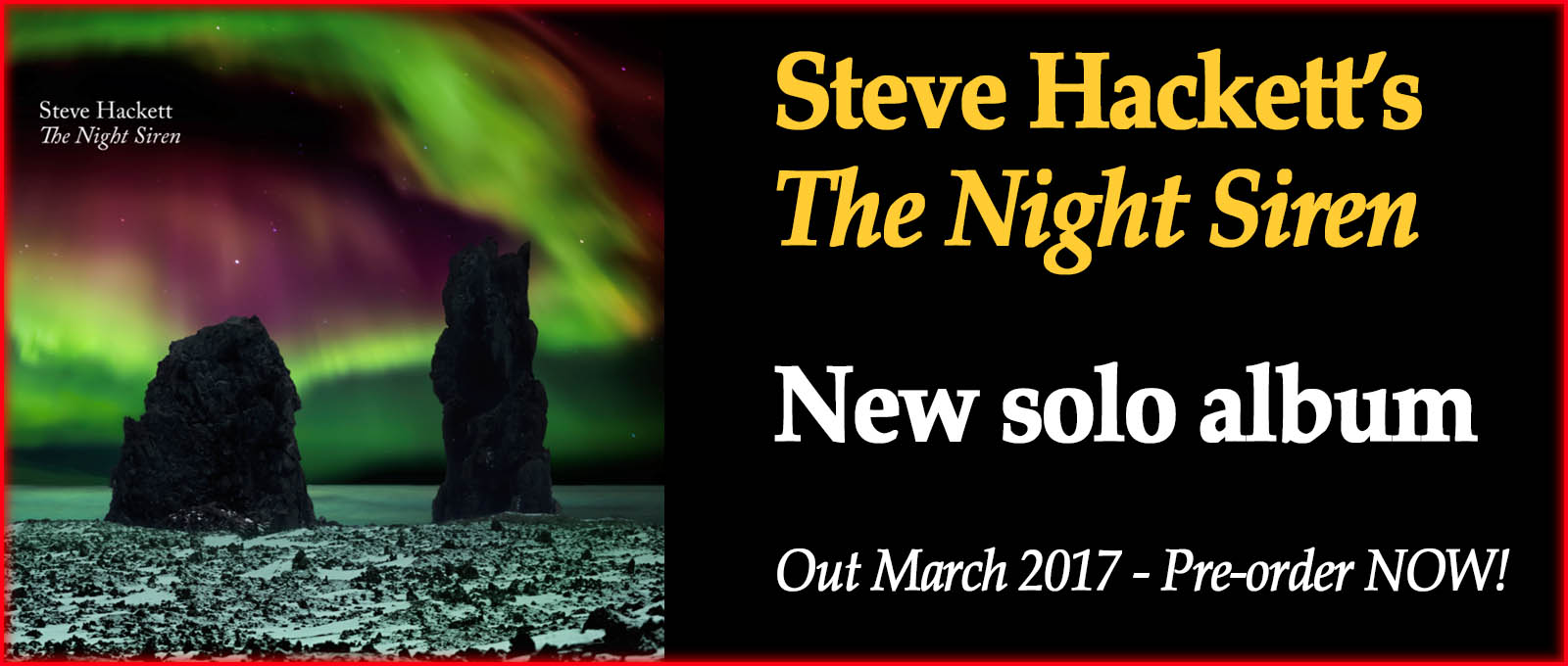 E' uscito il nuovo disco di Steve Hackett, The Night Siren, che uscirà il 24 marzo. 
Clicca qui per comprarlo su AMAZON
The Night Siren tracklist:
Behind the Smoke
Martian Sea
Fifty Miles from the North Pole
El Niño
Other Side of the Wall
Anything but Love
Inca Terra
In Another Life
In the Skeleton Gallery
West to East
The Gift
Ed ecco alcuni momenti condivisi sui social della lavorazione dell'album: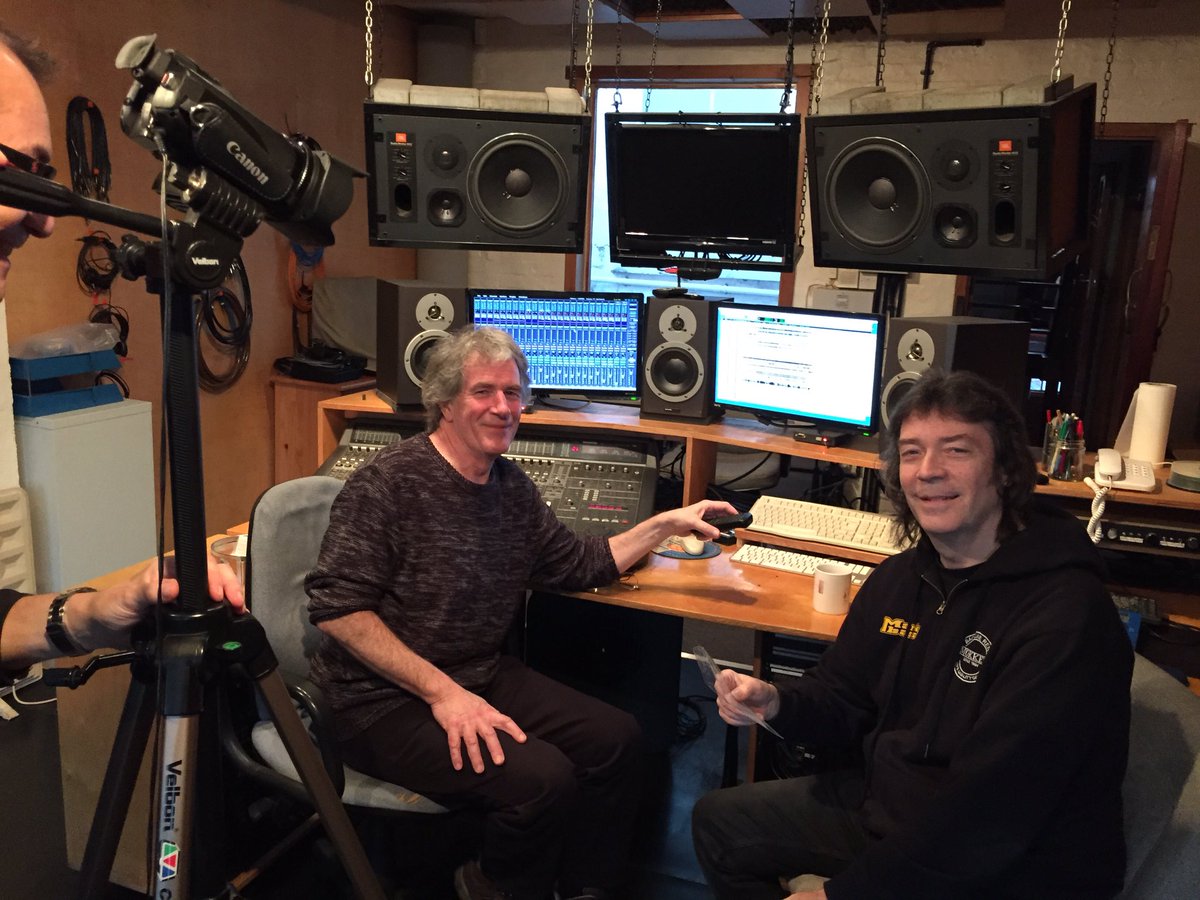 Un disco che sarà ricco di ospiti. Hanno partecipato i cantanti Kobi e Mira che provengono da Israele e Palestina e Nick D'Virgilio alla batteria. Oltre a Malik Mansurov dall'Azerbaijan, Gulli Breim dall'Islanda, oltre ai fedeli Roger King, Nad Sylvan, Gary O'Toole, Rob Townsend e Amanda Lehmann.
Alcune cose sono state registrate in Italia, alcune a Budapest, altre a Londra - ha raccontato Steve -, è un disco "in esterni" e ha quel tipo di atmosfera, un respiro internazionale. 
Steve ha dedicato il disco a sua madre, "che non è stata molto bene. Lo sto facendo per lei, questo disco - ha rivelato Steve in un'intervista - e lei lo ama già. La sta facendo sentire meglio, quindi sta già facendo il suo lavoro! La musica dovrebbe guarire e questo è quello che sta facendo in questo momento. Sono contento di questo".
Poi Steve arriverà anche in Italia con il Genesis Revisited & Hackett Classics 2017 tour. Ecco i biglietti per le date italiane: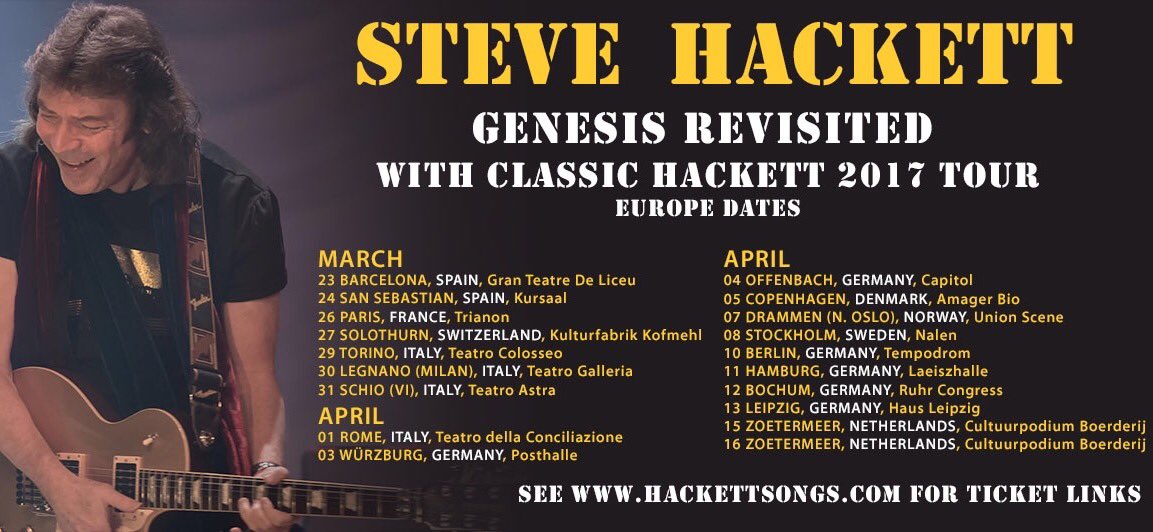 Marzo
Mercoledì 29 Marzo - Teatro Colosseo, Torino, ITALY - Biglietti disponibili su TicketOne - CLICCA E ACQUISTA
Giovedì 30 Marzo - Teatro Galleria, Legnano (Milano), ITALY - Biglietti disponibili su TicketOne - CLICCA E ACQUISTA
Venerdì 31 Marzo - Teatro Astra, Vicenza, ITALY - Biglietti disponibili su Vivaticket - CLICCA E ACQUISTA
Aprile
Sabato 1° Aprile - Teatro della Conciliazione, Roma, ITALY - Biglietti disponibili su TicketOne - CLICCA E ACQUISTA
Il repertorio sarà una nuova versione del suo Genesis Revisited.
Le date vedranno Steve suonare brani da Wind & Wuthering. Inoltre saranno in scaletta altre canzoni dei Genesis come  The Musical Box, Inside & Out e Anyway.
"Sono felice di portare in tour un nuovo set di Genesis & Hackett in UK nel 2017", ha dichiarato Hackett sul suo sito.
Con lui la band fedele, con Roger King alle tastiere, batteria e percussioni by Gary O'Toole, Rob Townsend al sassofono e flauto, Nick Beggs al basso e alla voce ancora Nad Sylvan.
Salva