Steve Hackett in tour nel 2020:
* Genesis Revisited Tour * Selling England By The Pound * Spectral Mornings * Solo Highlights * PLUS 40th Anniversary of Defector & Seconds Out. INFO, BIGLIETTI e TRAILER.
By Old King Cole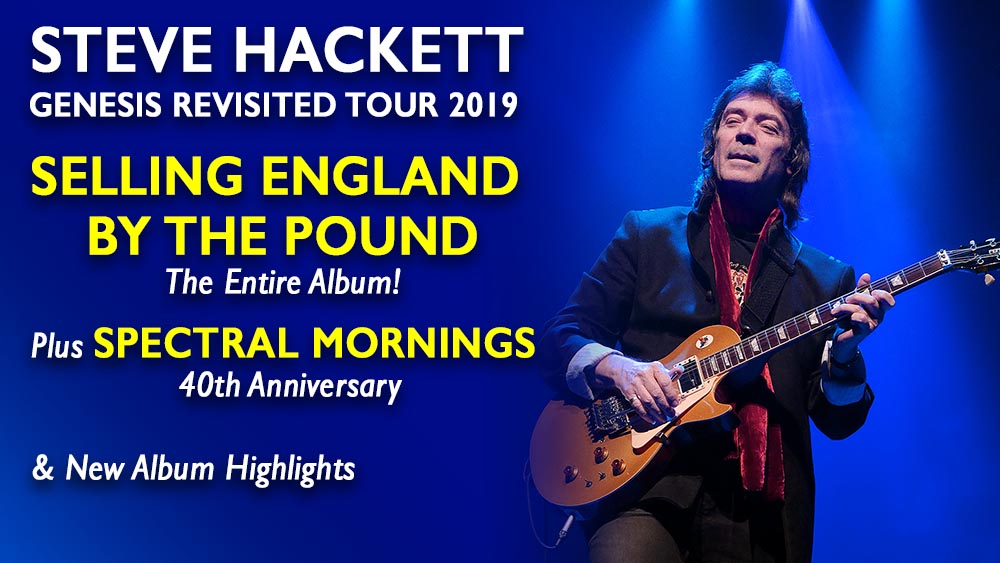 Ecco la prima immagine delle prove per l'imminente tour, postata da Steve:
Rehearsing licks for the upcoming N America tour... pic.twitter.com/zcG3wPwwih

— Steve Hackett (@HackettOfficial) February 16, 2020
Steve Hackett ha anche annunciato le novità per i tour 2020.
I'm excited to announce that Craig Blundell will continue as drummer with us throughout this year and into 2021... https://t.co/rNKCJVspSe

— Steve Hackett (@HackettOfficial) 7 gennaio 2020
Steve celebra 40 anni di DEFECTOR, suonando i brani chiave del suo album. In questo video racconta l'emozione di portarlo in tour:
In questa video-intervista Steve parla dei membri della band che sarà in tour con lui nel 2020 e 2021:
Nella prima parte dell'anno, Steve e la band continueranno ad eseguire integralmente l'album dei Genesis Selling England By The Pound.
Pubblicato nel 1973, l'album è stato al No. 3 nelle classifiche britanniche, è stato descritto come l'album definitivo dei Genesis. Include i preferiti come Dancing with the Moonlit Night, Firth of Fifth, The Cinema Show e, naturalmente, I Know What I Like (In Your Wardrobe). Altri brani classici dei Genesis saranno presenti in scaletta.
Il 2019 ha segnato anche il 40º anniversario di uno dei più popolari album da solista di Steve Spectral Mornings e Steve continuerà ad eseguire giustamente questa pietra miliare, eseguendo alcuni dei capolavori dell'album.
Saranno eseguiti anche brani del nuovo album di Steve, pubblicato nel 2019.
NOVITÀ in scaletta nel 2020 per celebrare il 40º anniversario di Defector, più ulteriori brani dei Genesis: The Musical Box & Watcher of the Skies.
Ha dichiarato Steve nel suo blog: "Sono entusiasta di eseguire l'intero mio album preferito Genesis, SELLING ENGLAND BY THE POUND, che ha catturato l'attenzione di John Lennon nel 1973. Sentivo che stavo suonando la chitarra nella migliore band del mondo, e tutto si stava aprendo per noi... Inoltre non vedo l'ora di suonare tutte le mie canzoni preferite da SPECTRAL MORNINGS, così come ulteriori gemme Genesis in un fantastico grande slam!"
Esclusivi pacchetti VIP Meet & Greet disponibili per molti spettacoli (Si prega di assicurarsi di acquistare un biglietto per lo spettacolo, prima).
Trailer:
Date della prima parte del tour:
Fonte: http://www.hackettsongs.com/
Altre date stanno per essere annunciate. Torna su questa pagina più volte o iscriviti alla nostra Newsletter nei form qui sotto.
Iscriviti alla nostra Newsletter
Iscriviti alla nostra Newsletter