Steve Hackett: l'album acustico "Under A Mediterranean Sky" raccontato dall'autore attraverso i social.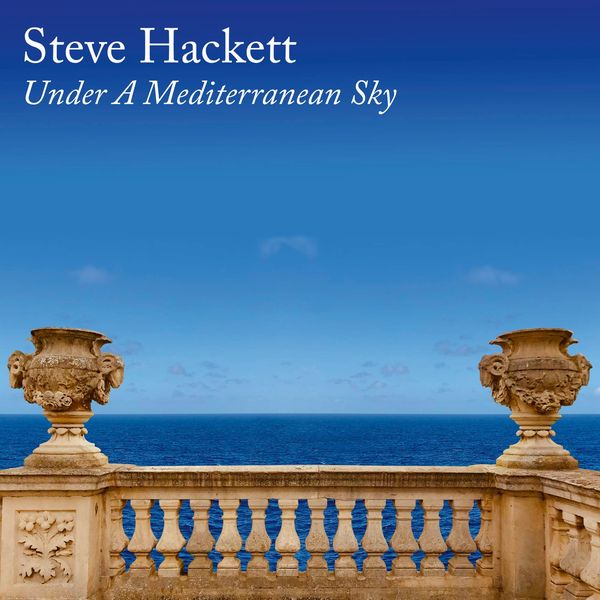 Puoi acquistare l'album qui, nelle diverse versioni:
Ecco il racconto del brano "The Call Of the Sea":
Steve racconta il brano "Andalusian Heart":
Ecco il racconto del brano "Lorato":
Qui Steve su "Casa del Fauno":
Steve racconta il brano "Scarlatti Sonata":
Ed ecco il racconto del brano "Joie De Vivre":
Qui Steve su "Adriatic Blue":
Steve ha parlato anche del brano "The Dervish and the Djin". Ecco il video:
Ed ecco il racconto del brano "The Memory Of Myth":
Steve ha commentato il singolo "Sirocco":
L'8 gennaio è stato pubblicato il video ufficiale di "Sirocco".
Eccolo:
Con questo post del 4 gennanio 2021 Steve ha annunciato un nuovo blog per raccontare i viaggi e i luoghi che hanno ispirato l'album:
Steve's new blog: Under A Mediterranean Sky: Journeys Of Inspiration - Part One

"This is the first of three blogs,...

Pubblicato da Steve Hackett su Lunedì 4 gennaio 2021
Il 29 dicembre ha racconato nuovi dettagli sull'album in un podcast. Ecco il post su Facebook:
Ecco il secondo singolo, "Mdina". Ascoltalo qui:
Scaricalo qui:
Qui Steve parla del brano:
Così Steve ha commentanto l'uscita del singolo, il 18 dicembre:
In questo video Steve dà le prime informazioni su "Under A Mediterranean Sky":
Qui Steve dà altri particolari, in un'intervista rilasciata il 10 dicembre:
Ed ecco "Andalusian Heart", il primo brano e primo video dall'album.
Guarda:
Scaricalo qui:
Steve ha pubblicato sul suo blog una riflessione sul suo nuovo album "Under A Mediterranean Sky" definendolo molto personale.
«Non c'è rock 'n' roll, non c'è la voce e non c'è la chitarra elettrica - dice Steve -. Ma la mia chitarra classica è affiancata da molti altri strumenti acustici e suoni orchestrali, in un viaggio immaginario attraverso le tante regioni che circondano quella vasta area di mare e cielo, con i suoi misteri incantati, il calore e il romanticismo.»
Hackett ha condiviso parte della scrittura con la moglie Jo, per quanto riguarda i testi. Roger King ha orchestrato e amalgamato tutte le sonorità. 
«Sono entusiasta dell'ensemble di musicisti fantastici - continua Steve -. Franck Avril all'oboe, Christine Townsend al violino e alla viola e mio fratello John al flauto aggiungono colore agli arrangiamenti orchestrali, mentre con Arsen Petrosyan al duduk e Malik Mansurov al tar, insieme al mio chirango e al liuto arabo, ci avventuriamo nel cuore del Medio Oriente. Il sempre versatile Rob Townsend al flauto e al sax soprano si muove a cavallo di diverse dimensioni musicali come il Colosso di Rodi.»
Per vedere le foto dei protagonisti dell'album CLICCA QUI.
Con questo post su Facebook del 4 novembre, Steve aveva annunciato titolo, copertina e dettagli del nuovo album "Under A Mediterranean Sky", in uscita il 22 gennaio 2021.
Il 9 settembre Steve aveva pubblicato questo post su Facebook:
Il 21 agosto Hackett aveva pubblicato un post, "Stoking the Flames", sul suo sito web che fa anche il punto dei lavori. Dice Steve:
«Nei giorni della settimana continuo a registrare con Roger e quei fuochi creativi stanno bruciando vivi... Anche molti altri musicisti che hanno inviato i loro contributi a distanza sono coinvolti. Non passerà molto tempo prima che annunci il mio prossimo progetto appassionato, quindi guardate questo spazio!».
Il 26 giugno Steve aveva ricordato con questo post su Facebook che i lavori procedono speditamente e che l'album è a un livello avanzato.
Il 23 giugno Steve ha pubblicato questo video, in cui accenna al diverso "taglio" dell'album, rispetto ai precedenti, e propone una piccola anteprima delle registrazioni con sonorità orchestrali.
Ed ecco cosa ha postato l'11 giugno. Nel racconto sul lockdown nel blog del suo sito, anticipa il ritorno alle registrazioni con il fedele Roger King.
«Ho usato questo tempo anche per preparare un nuovo album, in vista di un progetto acustico che coinvolgesse sonorità orchestrali e strumenti inusuali che non avevo mai utilizzato prima con questo tipo di album», scrive Steve nel suo blog.
E continua: «Appena è stato possibile, Roger ed io ci siamo riuniti per iniziare a registrare. Siamo già a metà strada e stiamo iniziando a raggiungere i musicisti, che possono essere coinvolti a distanza. È una sfida, ma un progetto entusiasmante che sta già esplodendo nella vita. Anche se sei bloccato in un posto fisicamente, la musica può tirarti fuori e portarti su quel tappeto magico sonoro in qualsiasi posto tu voglia sognare.... Credo che sia importante avere cose a cui puntare e a cui aspettarsi in momenti come questi.»
Le ultime di Steve Hackett su Horizons Genesis:
Iscriviti alla nostra Newsletter
Iscriviti alla nostra Newsletter