Mario Giammetti racconta a Horizons Radio il nuovo numero di Dusk, il Genesis Magazine di cui è fondatore e direttore e che, come al solito, ospita approfondimenti, interviste esclusive e servizi su attualità e novità del mondo Genesis.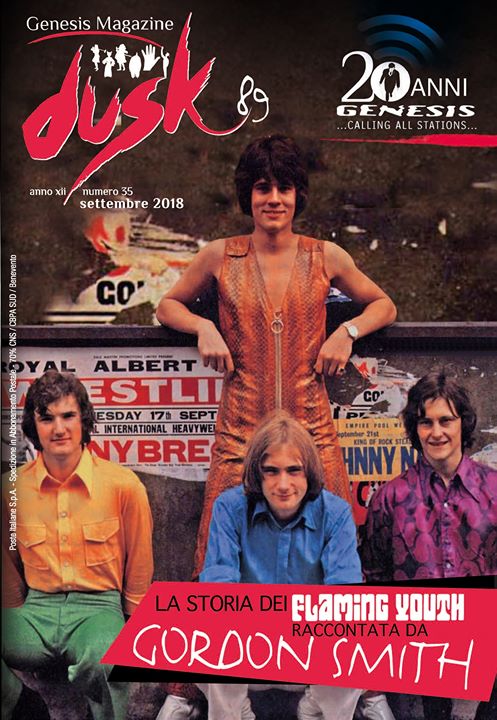 By Eugenio Delmale
"Con il numero di settembre, Dusk giunge a quota 89 - ci racconta Giammetti - . La nostra rivista, che ha iniziato nel lontano 1991 ed è, da molti anni ormai, l'unica al mondo dedicata al mondo dei Genesis a resistere su carta, in questa circostanza si dedica, in particolare, all'approfondimento di due argomenti". 
"In copertina troviamo i Flaming Youth, la band nella quale un giovanissimo Phil Collins fece i suoi esordi (anche se in realtà aveva già avuto qualche precedente esperienza). Per narrarcela a dovere, abbiamo scovato il chitarrista e cantante Gordon Smith, il quale ha scavato mirabilmente nel pozzo dei ricordi per raccontarci una storia come mai nessuno aveva fatto prima. A questo argomento sono dedicate quindi, oltre che la copertina, ben 17 pagine".
"L'intervista è ovviamente il fiore all'occhiello, ma opportuni box nello speciale ci informano sugli Hickory (band dalle cui ceneri sarebbero appunto nati i Flaming Youth), sull'unico album del gruppo, "Ark 2", sulle non poche apparizioni televisive dei Flaming Youth (con tanto di link a YouTube), la discografia e un pur approssimativo elenco dei concerti".
"Il secondo speciale - anticipa Mario Giammetti - riguarda i 20 anni (in realtà qualcosina in più) di "Calling All Stations", l'unico album registrato con Ray Wilson alla voce che sicuramente merita quantomeno un riascolto con le orecchie di oggi. Accanto all'analisi critica di Francesco Gazzara, ospitiamo interviste esclusive del 2007 rilasciate da Ray e Nir Zydkyahu".
"Il resto del numero (68 pagine con un sedicesimo a colori) si concentra, come sempre, sull'attualità. Quindi le pubblicazioni più recenti: "Harmony for Elephants" con Hackett e Phillips, Carl Palmer's ELP Legacy, ancora con Steve, la compilation di Mike & The Mechanics "Silent Running", il live dei Brand X "Locked & Loaded" e tre libri: "Genesis Counting Out Time", "Voyage Of The Acolyte" su Hackett, di Paulo De Carvalho, e l'aggiornamento di "Without Frontiers", su Gabriel, di Daryl Easlea".
"Per i concerti abbiamo i Brand X a Sellersville, Steve Hackett a Mirano e Ray Wilson al Genesis Day di Nocera Umbra".
Infine, il Direttore di Dusk Mario Giammetti, segnala "un paio di apprezzate rubriche, entrambe questa volta collegate a Tony Banks: Paint Your Picture racconta le opere di Stefan Knapp (usate per le copertine dei tre dischi classici di Tony), mentre il maestro Riccardo Grotto ci spiega tutto sui pianoforti usati dal tastierista".
Non resta quindi che attendere il nuovo numero di Dusk, come sempre ricchissimo di materiale Genesis & Co. E chi non l'avesse già fatto, può iscriversi qui.
Non perdere i nuovi contenuti.
Ascolta Genesis & Co.anche su: