The Concerts that made History.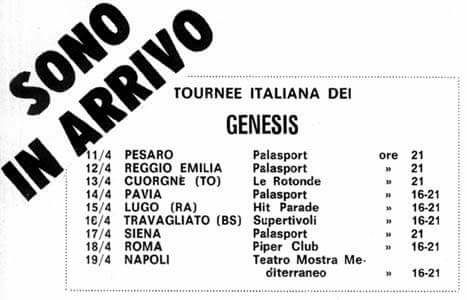 Aprile 1972, l'esordio dei Genesis in Italia, il paese che per primo ha capito la loro musica. Ecco le tappe con suoni e immagini di quell'avventura storica.
Il 19 Aprile 1972 i Genesis sono live al Teatro Mediterraneo di Napoli.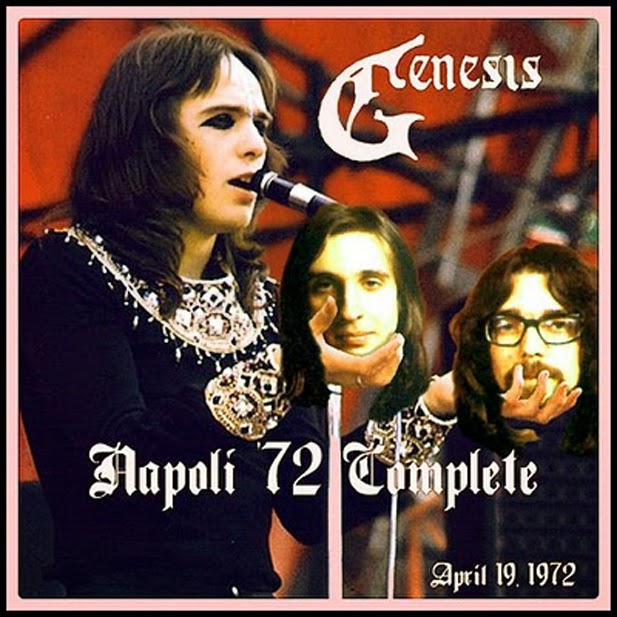 Un doppio concerto che chiude la prima parte del Nursery Cryme Tour dei Genesis in Italia.

Ecco l'audio del live:
00:00 - Happy The Man;
04:18 - Stagnation;
14:53 - The Fountain Of Salmacis;
23:20 - Twilight Alehouse;
32:14 - The Musical Box;
42:23 - The Return Of The Giant Hogweed;
49:11 - Phil's Solo;
51:24 - The Knife.
Una data che resterà nella storia dei Genesis, perchè sul tetto dell'Hotel Domitiana, che ospita la band, Mike e Tony scrivono il testo di Watcher Of The Sky.
Ecco il ricordo di Tony Banks in Genesis: I Know What I Like di Armando Gallo:
"Eravamo seduti in cima a questo edificio, era una calda giornata di sole e stavamo semplicemente guardando fuori attraverso una vasta area di edifici e campi; non c'era un'anima viva in giro. Sembrava che l'intera popolazione avesse appena disertato il pianeta e questo è ciò che racconta 'Watcher of the Skies': un essere alieno che viene sul pianeta e lo vede completamente deserto. E così la storia si sviluppa con un po 'di fantascienza. Mi piace  'Childhood's End' di Arthur Clarke e libri di questo genere."
E di Mike Rutherford in The living years (Trad. G. Testani):
"Io e Tony insieme scrivemmo il testo, seduti sul tetto del nostro hotel a Napoli immaginando che il mondo fosse finito. Alquanto strano, considerando che era un giorno piacevolmente soleggiato."
Il brano viene già utilizzato per il sound check prima dei concerti. A Napoli quindi viene completato e, come sappiamo, aprirà il prossimo album dei Genesis, in uscita l'ottobre seguente: Foxtrot.

Ma nella sua autobiografia, Mike racconta un altro retroscena, accaduto a Napoli:
"A Napoli scoprimmo un altro passatempo terapeutico... Concludere un tour con una litigata di gruppo era un classico. La cosa insolita della lite-di-fine-tour a Napoli fu che c'era un parco dei divertimenti proprio dietro l'angolo dell'hotel dove dormivamo. Arrivammo al punto di essere talmente stufi l'uno degli altri che decidemmo che l'unica cosa da fare era di buttarci sulla pista dell'autoscontro e sbatterci contro reciprocamente e selvaggiamente e ripetutamente. Devo dire che non ho mai sperimentato un modo altrettanto efficace per chiarirsi."
Leggi altri ricordi qui: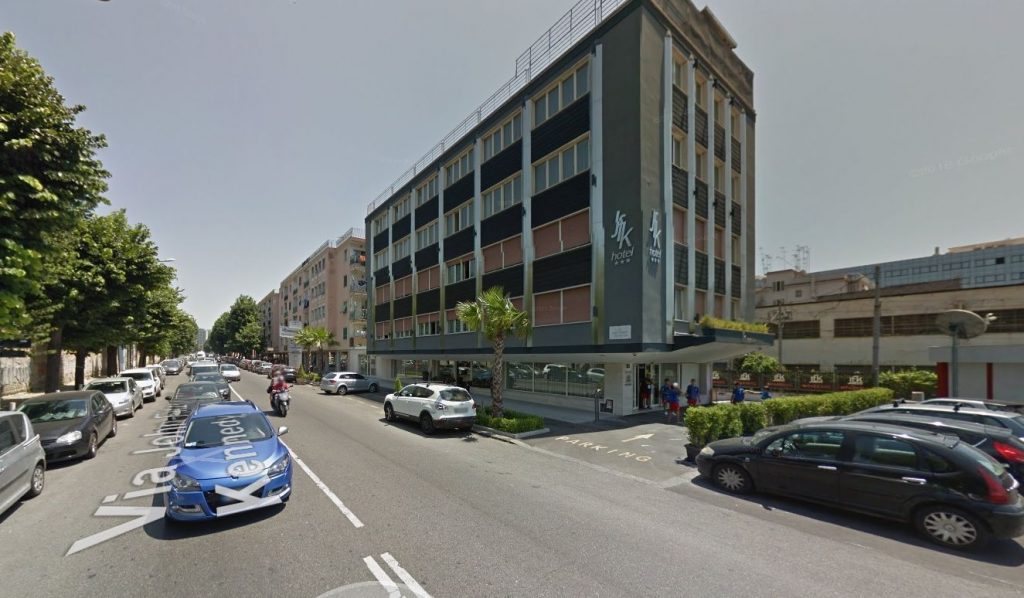 Le date italiane portano ulteriore fortuna ai Genesis, che assestano il loro successo nel nostro paese. Non solo, tornando in patria, Steve Hackett conoscerà Ellen, che diventerà la sua prima moglie e madre di Oliver.
E non finisce qui: i Genesis torneranno in Italia ad agosto, per una seconda parte del tour. Ma questa è un'altra storia.
Se hai ricordi di questo concerto scrivi a info@horizonsradio.it
Non perdere i nuovi contenuti.