The Concerts that made History.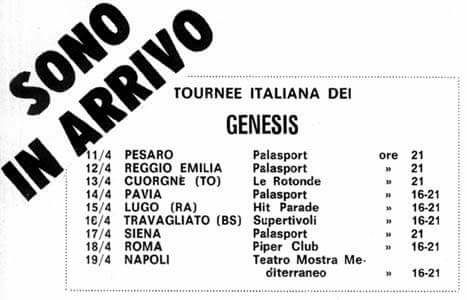 April 1972, the Genesis debut in Italy, the country that first understood their music. Here are the stages with sounds and images of that historical adventure.
On April 16, 1972 Genesis are live in Travagliato (Brescia), with a double concert at the m Supertivoli.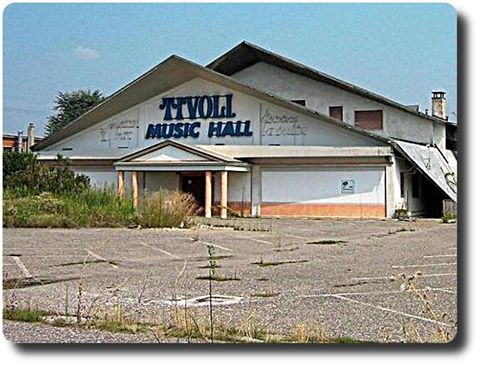 Here is the memory of Richard Milella on the site

"The Italy of concerts was as amateurish as could be expected. No professional Service, no backlines and backlights, no spies on stage, no catering, no roadies, no dressing rooms and / or showers, no security, nothing Generating sets, in short, nothing at all. The group arrived with a friend or two in tow a few hours before the show in the same van in which instrumentalists and instruments were piled together which then all unloaded, assembled, tested, adjusted, tuned. , two oranges and off with the concert with the same shirt and jeans of the afternoon. Even for Genesis it went like this, at least at their first drop Italy of rock found itself unprepared to set up performances worthy of the name."

"Peter speaks in his language but makes it clear that he will now perform a song recorded a few days ago and that it will be released on the next Lp entitled Foxtrot. I remember the song very well because it excited us all from the first listening with his majestic gait between the keys of the 'Hammond: Watcher of the skies it is a milestone and Gabriel also played it theatrically crouching in the chiaroscuro of the organ and literally jumping high in the orchestral explosions.
Some literature says that the song was conceived during this first tour in our house; wrong, when they performed it on Italian dates it was already so beautiful, so complete and so arranged as to certify a painstaking preparation even if on disc it will actually come out months later ".
There is some doubt about this second part, since an already completed form of is unlikely Watcher in Travagliato. Maybe Milella remembers the summer concert, always in the lower Brescia area, even if it does not refer to it. The charm of the mystery envelops this concert of which nothing remains, not even the place, demolished to build a shopping center in 2012 - Read.
This is the memory of Paolo Burg's Horizons Radio:
"Four of us arrived with a Fiat 600 at" Paradiso "to see them. Disappointment, after an hour we had to give up and go back to Cervignano. I already had" Trespass "at home so I was dying to see them live.
Here the beauty begins! The school I attended in Monfalcone had organized a visit to a factory near Brescia. I get off the bus and find myself in front of the nose a poster with the writing: Dancing Supertivoli, Travagliato, Brescia "Genesis".
Looking for the time of the first evening train to Travagliato and leaving was one.
I still have the concert before my eyes. Unforgettable!"