"Genesis 1967 to 1975: The Peter Gabriel Years" is the English version, enriched with new contents, of "The years Prog"by Mario Giammetti. The author talks about it in this interview.
By Eugenio Delmale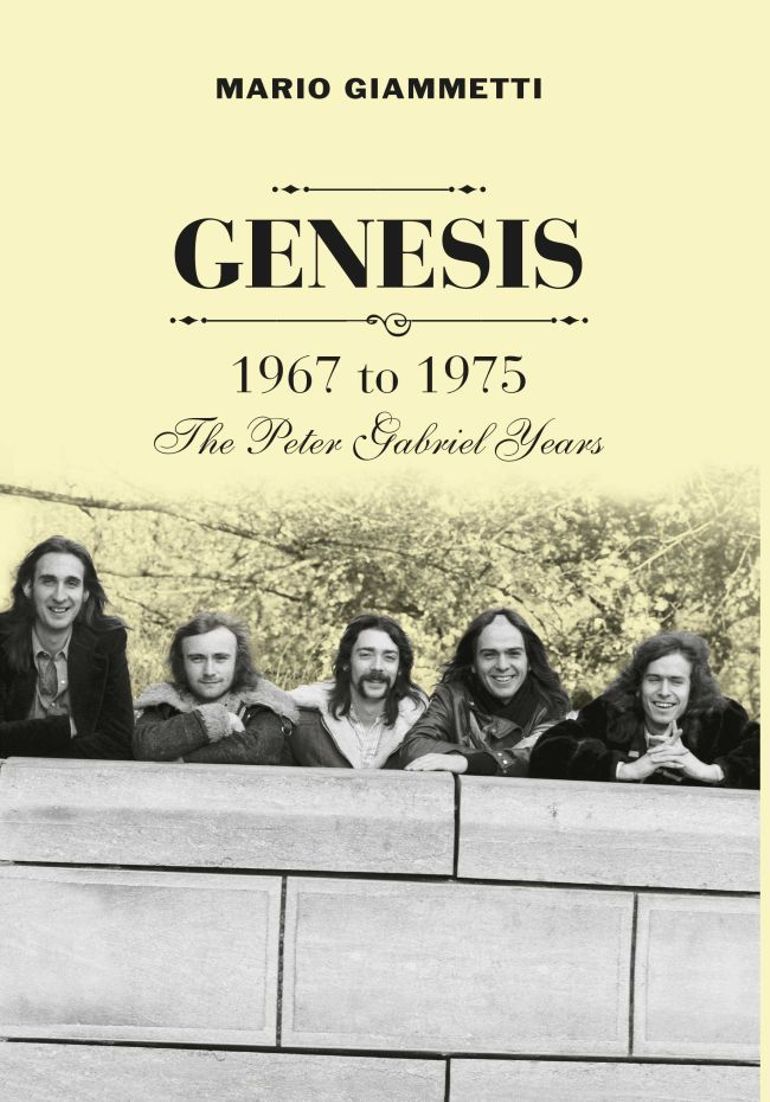 The book is published by Kingmaker.
Buy it here:
Mario Giammetti has agreed to talk about it with Horizons Radio.
HR: Anyone who has read the news of the release of your book has thought the same thing: "it does not often happen that an essay in Italian becomes a publication in English". Can you tell us how it went?
Mario Giammetti: I had been looking for an international publisher for my Genesis books for some years. During this process I ran into obstacles of various kinds, someone shareable (how can an English publisher, for example, judge the quality of a work written in a language he is unable to understand?), Others much less. For example, I learned that in England it is difficult to listen to a writer without an agent: I mean, in Italy an agent will perhaps be able to afford it Elena Ferrante, certainly not someone who writes about music! To all this was then added a significant problem, namely that any of my writings should have been translated, with a consequent increase in expenses. Finally, even if no one has ever told me expressly, underneath, by some foreign publisher, I also perceived a sort of mistrust: like, what does an Italian know about Genesis?
In the end I finally ran into the right people: two real fans (the journalist of the English magazine Prog, Nick Shilton, and the founder of Big Big Train, Greg Spawton) who wanted to start a music publishing house that paid particular attention to the quality of the product , overshadowing the box talk.
What impressed your book compared to the many writings about them in the Genesis motherland?
The focus is on music, more than on history, which has already been gutted more than enough, in the first place by Armando Gallo. In the end, what makes us love Genesis is their artistic production, isn't it?
The touch of class, however, are the plays that a part of the group has accepted to do with me: I listened to the whole The Lamb with Tony Banks in the studies The Farm, From Genesis To Revelation and Trespass with Ant Phillips (who had not done it for 40 years!), the other three with Steve Hackett. Just try to imagine what it means, after having assimilated each passage in decades of passion, to listen to those magical notes shoulder to shoulder with those who composed and recorded them: their almost minute by minute comments have become something really new for the bibliography on Genesis.
I would also like to point out that all the statements included in the book are unpublished, since only a small part of the interviews that Gabriel, Collins and Rutherford gave to the British journalist Mike Kaufmann had been included in the bonus videos of the remaster 2008.
What difficulties have you encountered in having your book translated from Italian into English?
None. Merit of Octavia Brown, who was commissioned directly by the publisher. Octavia is bilingual but it is also very prepared on a musical level, being also involved in different situations also in Italy (starting with the famous Prog Festival of Veruno). So she was very good even in the most technical parts, which gave me some concern. I read somewhere the comment of an English reader, who claims that it doesn't seem like a book translated from another language, and this I think is a great satisfaction for everyone.
Are there differences between the Italian and English versions? Which?
Very few, as Kingmaker purchased the rights from Giunti with the obligation to respect the Italian edition as much as possible. Naturally, however, some typos have been fixed and the list of concerts has been further improved thanks to a maniacal revision work done together with George German and Alessandro Borri.
And then, at my request, the sources of each declaration are now indicated, sentence by sentence, which Giunti had preferred to group instead at the end of the chapter. Finally, we added short excerpts of interviews that I made after 2013 and also some photos.
How does it feel to see your English version of your book?
It was my dream and it's a great emotion. The book is printed on the highest quality paper and honestly I couldn't ask for anything better.
Has any member of Genesis already seen the publication?
I understand it was sent to everyone, but I don't know if it has reached the various destinations. The coronavirus has created many organizational difficulties and even the usually highly efficient British post offices have gone into tilt. I myself received my copies only yesterday (and in my case a courier was used).
I don't think Tony or Mike are very interested in reading about Genesis, but I hope they make an exception this time because it is a different perspective where it is also fun to compare the different memories and opinions from the band members.
I hope Ant reads at least the first two chapters, since I think it is the first book ever that highlights his figure in this way.
As for Steve, I'm sure he will read it from start to finish!
Will your book be available in Italy? How?
I don't think it will be found in bookstores, it wouldn't even make much sense being the Italian version "Gli anni Prog" still in the catalog. You can certainly order via the Internet.
It is currently available on the Burning Shed website, but I understand that later on the sale will also be extended to other platforms, such as Amazon.
Do you expect to sell a lot in England? How are our beloved Genesis perceived there today? Are they still arousing interest?
I'll tell you an anecdote. A decade ago I managed to get to Chris Charlesworth, a well-known British journalist who, at the time, was head of the even more famous Omnibus Press (according to Wikipedia, even the largest music publisher in the world!). I had proposed the 'Genesis Files' project (a series of seven books, one for each member of Genesis, even if at the time I was only a little over half the work, which I would have completed only in 2016 and is still available in Italian for the Sign editions), underlining the fact that nothing like this has ever been made anywhere in the world. Charlesworth, after thinking about it for a moment, replied that the commercial strength of the Genesis was not enough to justify such an operation.
Strange as it may seem, we must resign ourselves to the fact that Genesis will never be considered as Beatles, Stones, Zeppelin, Queen, Pink Floyd, U2 etc., whose popularity in terms of sales is abysmally superior. This, of course, is even more true in Italy. And yet, the response of British fans to reunion at the end of this year, despite the prohibitive costs of tickets, it was exciting.
Ultimately, Genesis certainly remain worthy, even at home, of being counted among the greats of rock, but perhaps not among the greatest. It is clear that this is not my opinion, but only what I think I have perceived in those parts.
Now that the die is cast, will you publish more in English, about them, for example, the second volume, the post-Gabriel?
Yes, there is already an agreement with Kingmaker to publish the sequel to the Genesis story, which I had already completed at the end of 2017. I have already given us a subsidiary and it is now all in the hands of Octavia Brown for a publication in the course next year. Maybe with the addition of a final chapter dedicated to the Last Domino tour.
Meanwhile the new issue of has just come out Dusk, the Genesis Magazine of which, let us remember for the very few who do not know it, you are the creator and director.
With a slight delay, due to the pandemic that slowed down processing and shipping.
On the cover of course the reunion by Genesis, on which we transparently express our legitimate doubts, but this time we have focused in particular on the figure of Phil Collins: with the excuse of two recent vinyl reprints and a book, Francesco Gazzara has compiled a very enjoyable dictionary on the great artist.
We also remember the 25 years of the Musical Box and we have traced some tangential, but extremely interesting, characters that gravitate around the Genesis orbit.
For reasons of space, of the four interviews already carried out, this issue contains only the first two: to Allan Schwartzberg, drummer of Peter Gabriel's first album and first solo tour, and to Harry Kim, trumpeter alongside Collins for thirty years.
Thanks and good luck to Mario Giammetti for all his work. And here's the cover by Dusk.
The book includes, in addition to exclusive interviews with the members of the group and the main collaborators, as Mario has told us, some unpublished photos.
Kingmaker Publishing was launched last year by Prog journalist Nick Shilton and Big Big Train founder Greg Spawton.
Spawton says to Prog Magazine:
«I've been a huge Genesis fan since my youth and have read every book in existence about the band. However, Mario's book contains a wealth of details about the Peter Gabriel-era of Genesis that were previously unknown to me. I felt these insights needed sharing with the Genesis fan base and therefore was very keen for Mario's book to be Kingmaker's debut publication.»
Don't you have the Italian version of Mario Giammetti's book? Buy it here:
This is his first book by Mario Giammetti in English. LOOK AT THE OTHER BOOKS OF GIAMMETTI ON AMAZON.
The latest from the Band on Horizons Genesis:
Sign up to our newsletter
Sign up to our newsletter