Mario Giammetti racconta a Horizons Radio il nuovo numero di Dusk, il Genesis Magazine di cui è fondatore e direttore e che, come al solito, ospita approfondimenti, interviste esclusive e servizi su attualità e novità del mondo Genesis.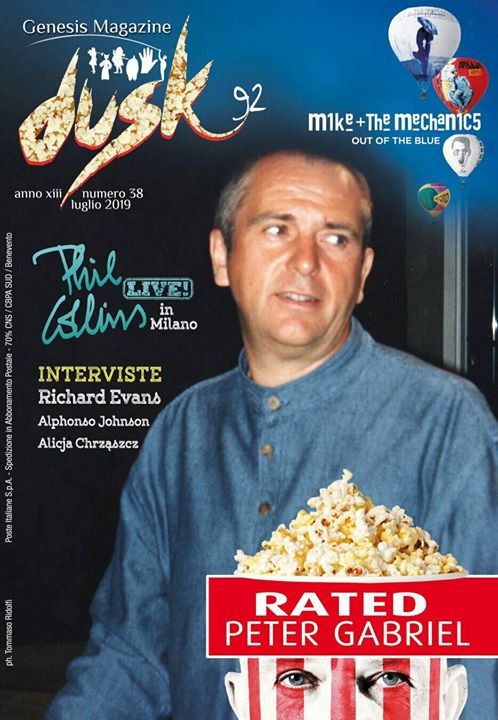 "Il numero 92 di Dusk dedica la copertina a Peter Gabriel – spiega Giammetti. La scusa è il vinile pubblicato in occasione del Record Store Day, Rated PG. Niente di sconvolgente, ma in verità non dedicavamo una cover al cantante da ormai troppo tempo. Per rendere la cover story più interessante, siamo riusciti a rintracciare Richard Evans, musicista poco appariscente ma, in realtà, un grandissimo collaboratore di Peter per una ventina d'anni, sia sul palco (dal 2002 al 2007), sia in studio. Evans ci ha raccontato molte cose e ci ha fatto scoprire, per esempio, un'apparizione live di Gabriel a Berlino a gennaio di quest'anno di cui nessuno sapeva niente."
"L'altro disco di cui ci occupiamo – continua il Direttore di Dusk - è Out Of The Blue di Mike & The Mechanics, costituito da tre inediti e una rilettura dei brani storici da parte della nuova line-up."
Giammetti puntualizza anche che "sta per uscire anche il cofanetto di Tony Banks ma quello abbiamo deciso volontariamente di rimandarlo al prossimo numero; ho già intervistato il tastierista per l'occasione e realizzeremo uno speciale che ne ripercorre l'intera carriera". Quindi la chicca che ci attende prossimamente merita l'attesa.
"L'altro argomento importante di questo numero è, naturalmente, il ritorno in Italia di Phil Collins, avvenuto qualche settimana fa a Milano. Noi ovviamente c'eravamo e raccontiamo quel concerto (così come qualunque altro disco o evento del mondo Genesis), come sempre, con totale onestà e sincerità".
"Completano il numero l'analisi del tour di Steve Hackett, che sta suonando in giro, tra l'altro, una versione integrale di Selling England By The Pound, le consuete recensioni, tra le quali segnaliamo la nuova edizione in vinile di Seconds Out, il nuovo disco di studio di Chester Thompson e il doppio cd degli Algebra, con Steve Hackett e Anthony Phillips ospiti!.
"Infine – conclude Giammetti -, abbiamo rintracciato, come cerchiamo di fare sempre, due personaggi tangenziali: il primo è Alphonso Johnson, leggendario bassista americano i cui legami col mondo Genesis sono più di quelli che pensavamo, e Alicja Chrząszcz, che da molti anni ormai suona con Ray Wilson".
Ma l'elemento di cui va giustamente più fiero il Direttore di Dusk Mario Giammetti è che per la prima volta il numero è tutto a colori. "Si tratta di un regalo del nostro collaboratore più prezioso e più generoso, Stefano Tucciarelli, titolare dell'agenzia Sound Pusher, il quale ha voluto farci fare un altro salto di qualità".
Non resta quindi che attendere il nuovo numero di Dusk, come sempre ricchissimo di materiale Genesis & Co. E chi non l'avesse già fatto, può iscriversi e abbonarsi qui.
Non perdere i nuovi contenuti.