Il 1° gennaio 1977, dopo l'uscita di Wind & Wuthering, ottavo album in studio, i Genesis iniziano il tour dal Rainbow Theatre di Londra.
[siteorigin_widget class="GTranslateWidget"][/siteorigin_widget]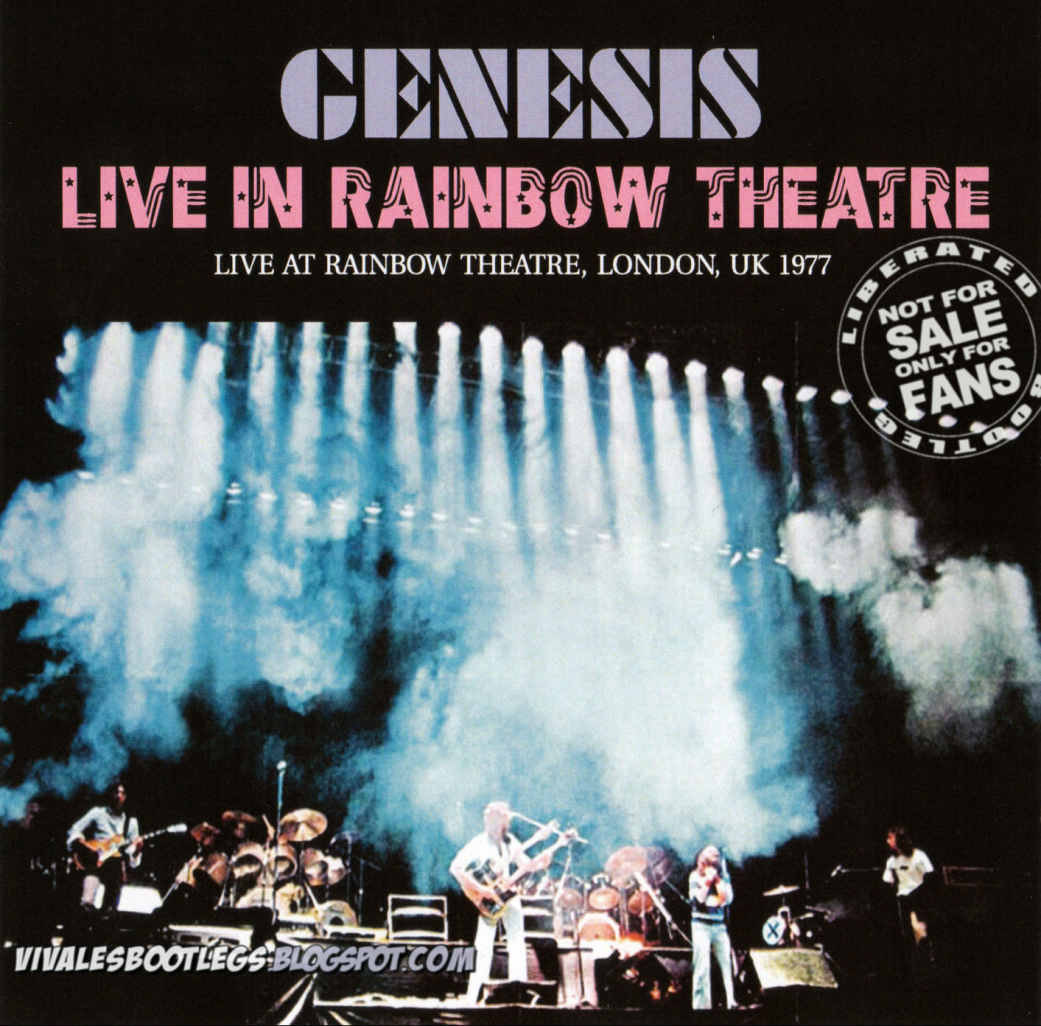 1° gennaio 1977, storico concerto per i Genesis, con il Live al Rainbow Theatre di Londra, in Finsbury Park, il giorno della riapertura dopo 3 anni. L'esordio alla batteria di Chester Thompson.
Tre date consecutive, di fatto l'inizio di un nuovo tour di sei mesi, con l'album Wind & Wuthering fresco fresco di uscita.
Nella formazione c'è una variazione non da poco. Alla batteria non c'è più Bill Bruford, che aveva affrontato il Trick Tour, sostituito da Chester Thompson, che, come sappiamo, resterà fedele a Genesis & Co. fino a oggi.
Chester ha avuto pochissimo tempo per imparare i brani dei Genesis, visto che è arrivato dagli USA a metà dicembre.
I biglietti e il tour programme non ufficiale: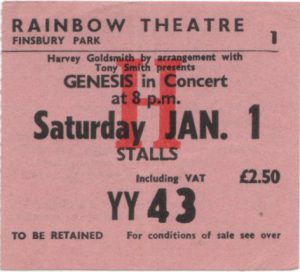 Ecco la registrazione audio della data di Capodanno. Una scaletta che resterà unica, inaugurata da Eleventh Earl of Mar e con un medley tra Lilywhite Lilith, The Waiting Room e  Wot Gorilla, mai più riproposto. Proprio prima di iniziare i tre brani, uno strumento smette di funzionare e, mentre qualcuno inizia ad armeggiarci, si sente Phil che ci scherza su e dice: "Certo che per 3000 sterline 'sta cosa poteva pure funzionare!" 
https://www.youtube.com/watch?v=ZFlAxCJv2KE
0:00 Eleventh Earl of Mar (first performance)
8:38 Carpet Crawlers
14:51 Firth of Fifth
24:30 Your Own Special Way (first performance)
31:51 Robbery, Assault and Battery
38:54 …In That Quiet Earth (first performance)
43:20 Afterglow (first performance)
48:35 Lilywhite Lilith (only known performance during this era)
51:04 The Waiting Room (intro) (only known performance during this era)
51:39 Wot Gorilla? (only known performance)
54:33 One for the Vine (first performance)
1:04:34 Squonk
1:11:49 All in a Mouse's Night (first performance)
1:20:37 Supper's Ready
1:43:53 I Know What I Like (In Your Wardrobe)
1:51:25 Dance on a Volcano
1:54:10 Los Endos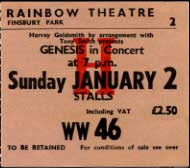 Dalla seconda data la scaletta cambia e inizia una trasformazione che resterà tale per tutto il tour inglese. Ecco la registrazione audio del 3 gennaio:
00:00 – Eleventh Earl Of Mar;
08:31 – The Carpet Crawlers;
14:48 – Robbery, Assault & Battery;
21:16 – Your Own Special Way;
27:28 – Squonk;
34:48 – One For The Vine;
45:41 – Firth Of Fifth;
55:17 – All In A Mouse's Night;
01:03:17 – Supper's Ready;
01:27:42 – I Know What I Like;
01:35:21 – Dance On A Volcano;
01:39:43 – Los Endos;
01:45:31 – The Lamb Lies Down On Broadway/The Musical Box.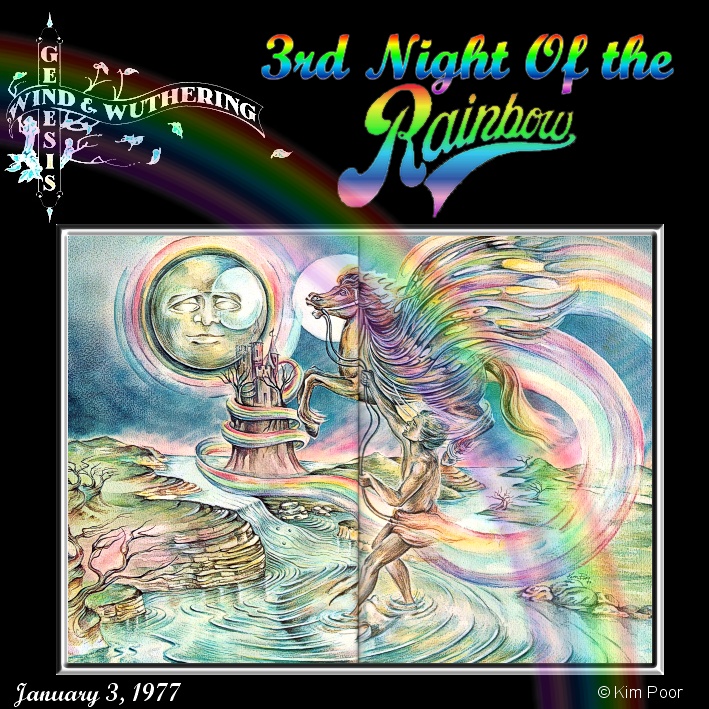 Ed ecco un audio dell'intervista rilasciata alla vigilia di Natale, a Londra, pochi giorni prima dell'inizio del tour.
La scenografia del concerto e del tour è quella famosissima della copertina di Seconds Out.
Un muro di luci, laser, proiettori, colonne di amplificatori, per supportare una band che non possiede più un leader carismatico com'era Peter Gabriel e punta sulla qualità musicale e visiva.
E a proposito di Peter Gabriel. E' presente alla serata inaugurale del Rainbow. E, come la critica, che accoglie con recensioni buone ma fredde i tre show di inizio anno, non ha parole di elogio per la prima esibizione del 1977. "Al Raimbow sono rimasto un po' deluso – racconta Peter al Melody Maker, riportato in Genesis. Il fiume del costante cambiamento di Mario Giammetti –".
Neanche i Genesis sono soddisfatti, l'amalgama con il nuovo batterista è insufficiente e si consoliderà nelle settimane successive, ma l'occasione del Rainbow è ghiotta e non può essere persa. Miglioreranno, appunto, nel corso del tour, fino al mese di giugno, quando al Palazzo dello Sport di Parigi registreranno gli show che entreranno a far parte del magnifico album live Seconds Out.
Ma questa è un'altra, prossima, storia.
Salva
Salva
Salva
Salva
Salva
Salva
Salva
Salva
Salva
Salva
Salva
Salva
Salva
Ecco il bootleg, registrato il giorno successivo:
I Genesis su Wind & Wuthering:
Wind & Wuthering live:
Ascoltiamolo insieme nel programma di Horizons Radio:
Il compleanno di Wind & Wuthering - 1.a Parte

Eugenio Delmale

0:39
Il compleanno di Wind & Wuthering - 2.a Parte

Eugenio Delmale

0:20
Il compleanno di Wind & Wuthering - 3.a Parte

Eugenio Delmale

0:33
Il compleanno di Wind & Wuthering - 4.a Parte

Eugenio Delmale

0:19
Il compleanno di Wind & Wuthering - 5.a Parte

Eugenio Delmale

0:37
Il compleanno di Wind & Wuthering - 6.a Parte

Eugenio Delmale

0:30
Il compleanno di Wind & Wuthering - 7.a Parte

Eugenio delmale

0:46
Il compleanno di Wind & Wuthering - 8.a Parte

Eugenio Delmale

0:36
[siteorigin_widget class="ai_widget"][/siteorigin_widget]
[siteorigin_widget class="MailPoet\\Form\\Widget"][/siteorigin_widget]
[siteorigin_widget class="MailPoet\\Form\\Widget"][/siteorigin_widget]