Il 1° novembre 1969 i Genesis inaugurano la loro lunga stagione di concerti con il primo vero live alla Brunel University di Acton, in Inghilterra. Ecco i ricordi di quella serata storica.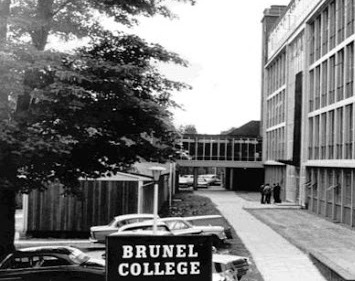 La Brunel University London è un'Università pubblica situata a Uxbridge, West London, UK. E' stata fondata nel 1966 e prende il nome dall'ingegnere dell'epoca vittoriana Isambard Kingdom Brunel.  E' frequentata da oltre 13.000 studenti.
Qui, nella Student Hall del College, il 1° novembre 1969 si esibiscono i Genesis in quello che è considerato il loro primo vero live professionale, in quanto davanti a un pubblico pagante e pagati loro stessi per esibirsi. 
Prima di questa data uno dei due requisiti manca, come il 23 settembre al Balmes's Dance di  Chobham o il 10  ottobre al Kingsbury Working Mens Club di Tamworth o il giorno successivo al Wood End Youth Centre sempre di Tamworth.  Concerti in cui i Genesis vengono pagati, ma si tratta di party gratuiti.
Ecco il ricordo di Mike Rutherford, riportato dal sito www.genesis-movement.org:
"Brunel è stato il primo vero concerto, la nostra prima performance pubblica (...). E' stato difficile tenere le dodici corde accordate e abbiamo passato anni nella toilette a cercare di ottenere l'accordatura giusta!"
Live di cui mancano notizie basilari, quasi avvolto nella leggenda. Ecco allora la probabile setlist suonata quella sera dai Genesis, confermata in varie interviste sia da Anthony Phillips che da Tony Banks, (e riportata dal blog genesis-places.blogspot.it):
In the Wilderness
Masochistic Man
The Stumble (Cover di John Mayall & The Bluesbreackers)
Baa Baa Black Sheep (Cover del brano Rock Around The Clock)
Build Me a Mountain
In Limbo
Digby
Little Leaf
Babies
Key to Love
Looking For Someone
Twilight Alehouse
Sitting on Top of the World (Cover dei Cream)
Pacidy
Lo stesso Blog pubblica le seguenti immagini:
La formazione è nota:
Peter Gabriel - Lead vocals, percussion, flute
Tony Banks - Keyboards
Michael Rutherford - Bass, guitars, vocals
Anthony Phillips - Lead guitar, vocals
John Mayhew - Drums
Ed ecco alcuni estratti di un articolo riprodotto in thegenesisarchive.co.uk, in cui Paul Russell conferma la scaletta riportata sopra, raccoglie i ricordi di Phillips, Banks e Rutherford, con la disposizione sul set, il panico da palco di Ant (che lo porterà ad abbandonare la band - LEGGI) e la presenza di agenti talent-scout nel pubblico: 
Ed ecco quella che risulta essere la prima registrazione dei Genesis dal vivo. Si tratta di "Live at the BBC 4 Studio Maida Vale", registrato a Londra tre mesi e ventidue giorni dopo il primo concerto, cioè il 22 febbraio 1970:
Non perdere i nuovi contenuti.