Il doppio album di registrazioni inedite dallo storico primo festival WOMAD del 1982.
[siteorigin_widget class="GTranslateWidget"][/siteorigin_widget]
WOMAD e Real World Records celebrano il 40° anniversario di un momento culturale fondamentale con la pubblicazione del doppio album "Live at WOMAD 1982".
Compralo qui e, oltre all'autore, aiuti Horizons Genesis – LEGGI COME –:
Anche in versione MP3 – CLICCA QUI.
Con esibizioni inedite di Echo and the Bunnymen, Peter Gabriel, Simple Minds, The Beat, Robert Fripp, The Drummers of Burundi, The Musicians of the Nile, Salsa de Hoy e molti altri, questa registrazione del primissimo festival WOMAD riflette una diversità di programmazione musicale senza pari che è diventata la firma del festival nei quattro decenni successivi.
Nel luglio 1982, il Royal Bath and West Showground vicino a Shepton Mallet, nel Somerset, fu il luogo prescelto per quello che gli organizzatori chiamarono "un mondo di musica, arti e danza" (WOMAD in breve): 5 palchi, con 60 band provenienti da oltre 20 Paesi. L'intento del festival era quello di riconoscere l'influenza della musica non occidentale sulle band e sui musicisti occidentali di successo e di creare un pubblico più ampio per quella musica combinando entrambe le cose nello stesso evento: un festival che celebrasse la musica come linguaggio universale.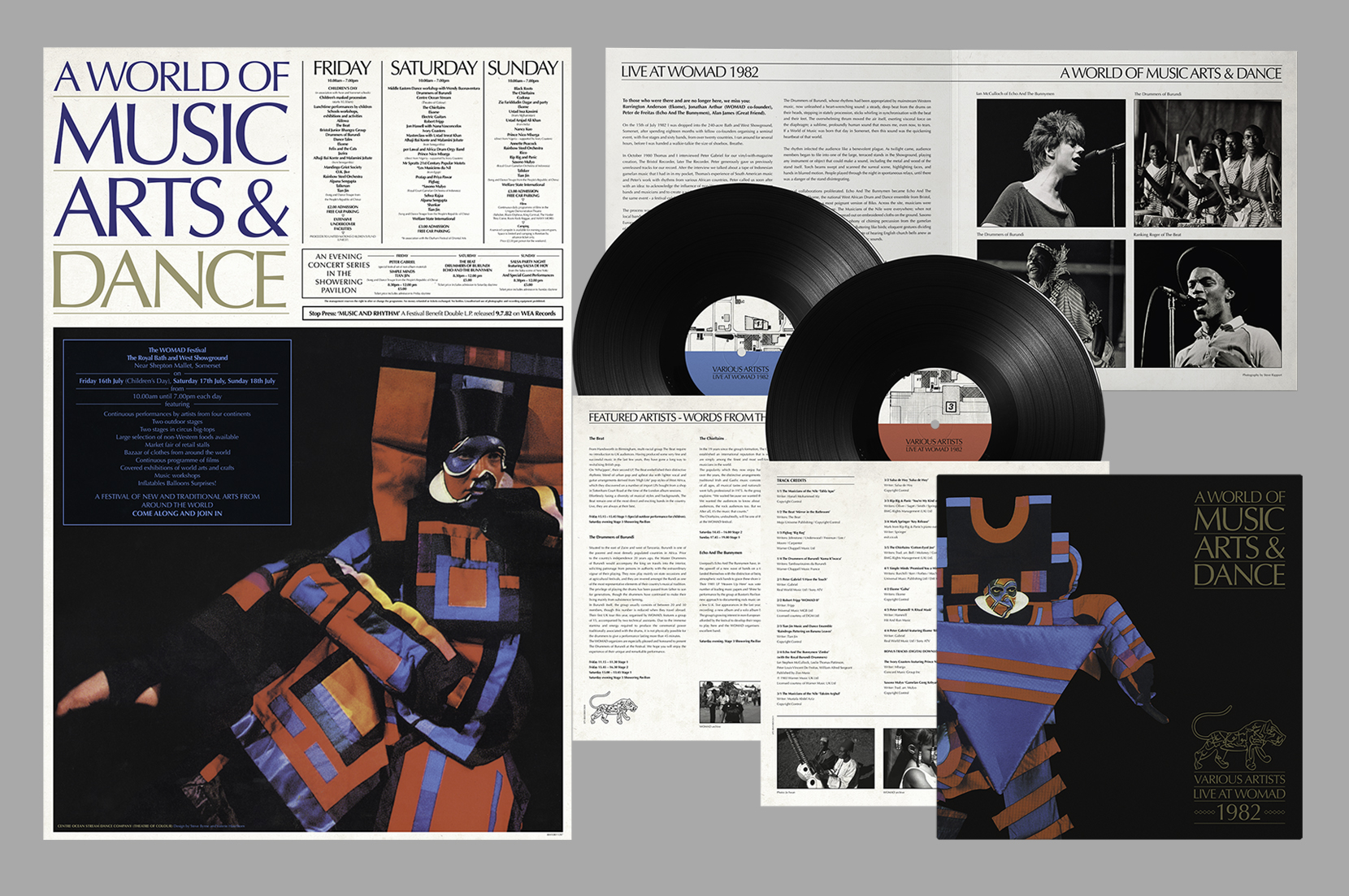 L'idea del festival è nata da una conversazione tra Peter Gabriel e il regista Mark Kidel, che hanno condiviso l'interesse per la scoperta della musica di culture diverse e il desiderio di far conoscere questa musica al pubblico britannico.
"Il nostro sogno non era quello di spargere la musica mondiale in un festival rock, ma di dimostrare che questi grandi artisti potevano essere headliner a pieno titolo", ricorda Peter Gabriel. "Volevamo dimostrare che
ovunque tu fossi nato, di qualsiasi colore o lingua, di qualsiasi orientamento religioso o sessuale, un lavoro potente, appassionato e gioioso avrebbe avuto un caldo benvenuto al WOMAD".
Kidel individuò in un gruppo di appassionati di musica post-punk che gestivano la rivista Bristol Recorder i complici perfetti per esplorare le idee su come raggiungere questo obiettivo. Peter prese il telefono e chiamò il loro ufficio, e furono invitati a partecipare a una riunione. Tra loro c'era Thomas Brooman, che sarebbe diventato il direttore del festival per oltre due decenni. "Forse eravamo a corto di conoscenze professionali e musicali, ma di certo non eravamo a corto di entusiasmo", ricorda Thomas.
Tratto da PeterGabriel.com.
Altre news su Peter Gabriel
[siteorigin_widget class="WP_Widget_Custom_HTML"][/siteorigin_widget]
[siteorigin_widget class="ai_widget"][/siteorigin_widget]
[siteorigin_widget class="MailPoet\\Form\\Widget"][/siteorigin_widget]
[siteorigin_widget class="MailPoet\\Form\\Widget"][/siteorigin_widget]